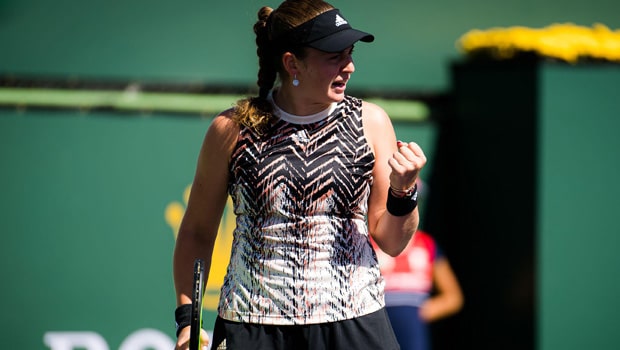 Latvian tennis star Jelena Ostapenko has continued her excellent form at the BNP Paribas Open as she overcame Shelby Rogers in a gruelling 6-4, 4-6, 6-3 win. With the win, Ostapenko has now progressed to the semifinals of the tournament as she will now face Viktoria Azarenka in the semifinals.
After the win, Ostapenko spoke at length about various topics. She revealed her admiration for Serena Williams and also opened up on how she impacted her life during the early stages of her career. She also spoke about her career and also on the Indian Wells performances.
When asked one player who has left a long lasting impact on her career, Ostpenko immediately revealed Serena Williams' name. She opened up on how she liked the American's aggressive approach. She has grown up watching Williams'  matches and has got massively influenced by her.
"Now it's hard to say because I'm playing myself," Ostapenko said in her post-match press conference. "I'm not really watching anyone specific."
"Before, of course, Serena [Williams]," she continued. "I loved the way she played. I mean, she's still playing now. Yeah, she was like my idol I think."
The youngster highlighted how Serena Williams connected with a lot of people as she played with a lot of emotions. It is something that has allowed Ostapenko to connect with Williams.
"[Serena Williams] was the one I was looking up to," Ostapenko added. "She was playing very aggressive. It was very nice and entertaining to watch her. She has, like, a lot of emotions when she plays."
Coming back to her performance at the BNP Paribas, Ostapenko has been in great form. She showed great determination and grit to fight it out against home favourite Shelby Rogers in a gruelling three set match. The Latvian will face former champion Viktoria Azarenka in the semifinals. In the other semifinal, Tunisian tennis star Ons Jabouer has already qualified for the last four and she will face either Angelique Kerber and Paula Badosa in the semifinals.
Ostapenko pulled off the biggest upset in the event as she defeated Iga Swiatek in the fourth round. It has been a great journey so far for Ostapenko and she will look to carry on for the rest of the campaign at the Indian Wells.
Leave a comment