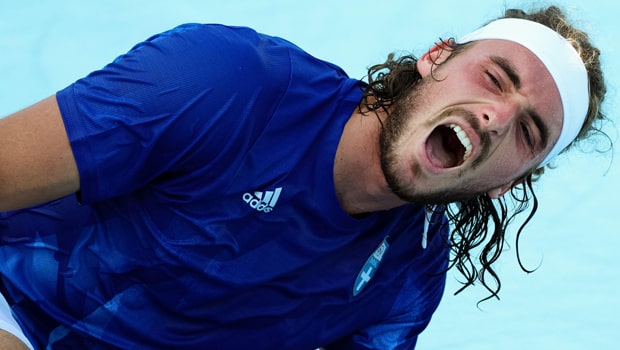 Greece Tennis sensation Stefanos Tsitsipas gave his all in the National Bank Open semifinal against USA's Reilly Opelka but lost 6-7(2), 7-6(4), 6-4 after battling hard for almost two and half hours. Tsitsipas admitted that it didn't go his way when it had to as he couldn't win the crucial points and feels there is hope for next time.
The first two sets were decided in the tie-breaker as Tsitsipas won the first one but went on to lose the second set. However, the Greek youngster could not hold his serve in the seventh game of the final set and Opelka was able to make the most of it.
"Nothing was too difficult to handle," claimed Tsitsipas in the post-match presentation. "It was played on the details, and he prevailed. It didn't go my way when it had to, and it's alright. I feel like there is hope for next time."
Tsitsipas added that he is working hard on returning serve against players like Opelka, who are tall. Tsitsipas is 1.93 metres tall but Opelka is massively tall at 2.11 metres. Thus, it is not easy for players to return against Opelka because of the bounce he gets on his serve due to the height advantage.
"It's not that I'm not working on that. "I'm spending a lot of hours trying to perfect that, but it's not very easy," said the World No.3. "The speeds reach close to 230, 240 kilometers per hour. Even with the best anticipation, it still makes it very difficult for even a one-handed backhand guy to return those serves."
The 23-year-old from Athens admitted that he failed to achieve the rhythm against the American in the semifinal contest.
"When you get no rhythm, it's also kind of difficult, sometimes to feel and get the shots that you had before," said Tsitsipas. "It's not that I was scared or afraid. It's just that I was missing shots in the rallies."
"I was lacking the experience from the baseline; of playing rallies that I could have had a better understanding of how to play and where to play. I had very few of those opportunities, and it kind of cost me in the end," said the Greek.
Opelka will face Daniil Medvedev in the final of the National Bank Open.
Leave a comment