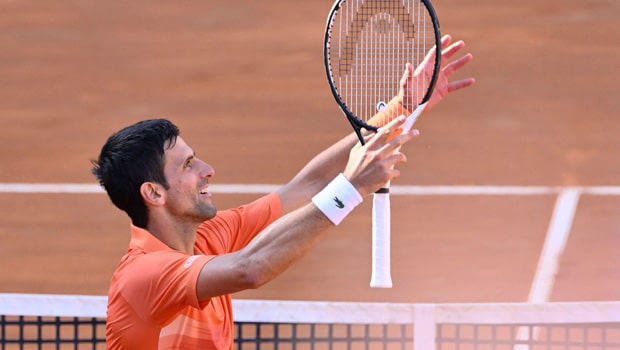 Renowned Tennis coach Patrick Mouratoglou reckons if Novak Djokovic wins the French Open, he will be in a great position to take lead in the GOAT race. Djokovic recently won the Italian Open by beating Stefanos Tsitsipas in the final in straight sets.
This was Djokovic's maiden title of the season and couldn't have come at a better time for him. The Serbian won his sixth title in Rome and this will definitely add a lot of confidence to his bag before the French Open 2022.
If Djokovic is able to defend his title at Roland-Garros, he will also equal Rafael Nadal's record of 21 Major titles. Subsequently, World no.1 will also be a big favorite for the Wimbledon.
Meanwhile, Patrick Mouratoglou feels young Tennis sensation Carlos Alcaraz and previous season's French Open runners-up Stefanos Tsitsipas will be amongst the favorite for Roland-Garros.
The Frenchman said on his Instagram account, "One: Carlos Alcaraz.'Carlitos' is probably the most solid player at the moment," Mouratoglou said. "He won Barcelona, he won Madrid, as well as Miami a few weeks earlier. In Madrid, he became the first player to defeat both Nadal and Djokovic in the same claycourt event. Two: Stefanos Tsitsipas. Finalist last year in Roland Garros, Tsitsipas also had a good claycourt preparation for Roland Garros. He defended his title in Monte-Carlo and racked up big wins over the last month."
Mouratoglou feels veterans like Novak Djokovic and Rafael Nadal will be big favorites for the French Open. Nadal is not at the top of his fitness but he will look to continue his love affair with Roland-Garros.
He said, "Three: Novak Djokovic. There will be huge stakes for Djokovic at Roland Garros this year," the Frenchman continued. "He dominated across several Grand Slam tournaments last year, and this will be his first Major in 2022. If he wins, he will tie Rafa in the GOAT race with 21 and be in a great position to take the lead."
"Four: Rafael Nadal. He's known as the 'King of Clay' and winning this year's Roland Garros would mean taking a two-title lead on Roger [Federer] and Novak in the GOAT race," Mouratoglou added. "But, he didn't have a great claycourt [season] in preparation for the French and didn't look in too good physical shape against Shapovalov in Rome."
The French Open will begin on May 22.
Leave a comment