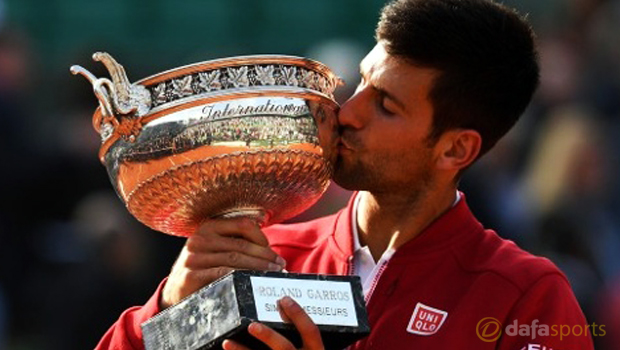 World number one Novak Djokovic immediately set his sights on winning all four grand slams in a calendar year after claiming his maiden French Open success on Sunday.
The Serbian recovered from losing the opening set to Britain's Andy Murray to claim victory in four sets, 3-6 6-1 6-2 6-4 in front of an adoring Roland Garros crowd.
It was Djokovic's first Paris success at his 12th attempt and also brought his tally of grand slam victories to a dozen.
He became just the third man in history, joining American Don Budge and Rod Laver of Australia, to simultaneously possess the French Open, Australian Open, US Open and Wimbledon trophies.
Not since Laver in 1969 has any man swept the four grand slams in a single calendar year but Djokovic makes no secret of the fact that will now become his target for the remainder of 2016.
"Well, I don't want to sound arrogant, but I really think everything is achievable in life," he told reporters.
"You know, winning this trophy [French] gave me so much happiness and fulfilment. I'm trying to grasp and I'm trying to cherish, obviously, these moments right now.
Whether or not I can reach a calendar slam, that's still a possibility." Djokovic became just the eighth man to complete a career set of grand slam wins, joining his contemporaries Roger Federer and Rafael Nadal on the exclusive list.
Now 29, Djokovic conceded that it took him some time to grasp the concept that he had to learn to compete with the likes of Federer and Nadal.
"At the beginning, I was not glad to be part of their era. Later on, I realised that in life, everything happens for a reason," he added.
"You're put in this position with a purpose, a purpose to learn and to grow and to evolve.
Fortunately for me I realised that I need to get stronger and that I need to accept the fact that I'm competing with these two tremendous champions."
Djokovic is 1.80 to win the Wimbledon title next month, while vanquished French finalist Murray is 4.50 and Federer is 9.00.
Leave a comment