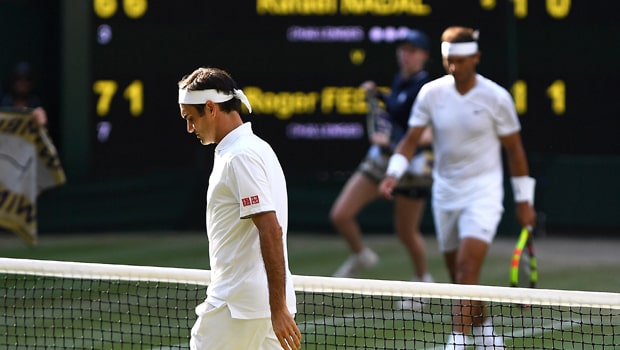 The US Open is just days away and preparations are being finalised to make sure that the event goes on as smoothly as possible. Just like last year's edition, there would be COVID-19 protocol and regulations in place to keep both players and spectators safe. Also, like last year's event, some top players have withdrawn from this year's US Open. But we would be reviewing four of the big names that would be missing in action at this year's US Open.
First on the list is Roger Federer. At this point, the real surprise would have been if he was going to be at the event. But Federer had earlier announced that he would be retiring from the rest of the event this year as he undergoes knee surgery. His knee has been a cause of concern as he had two surgeries last year alone. Federer has also not participated in some big games this year like the Wimbledon Championship and the Tokyo 2020 Olympics.
Next on the list is Rafael Nadal. Nadal's announcement came as a real surprise as he had expressed hope that he earlier expressed hope that he would play at the US Open. After suffering a shocking loss to Novak Djokovic at the semifinal of the French Open, Nadal has not played in any event since then. He skipped Wimbledon but promised he would be back for the Olympics. Unfortunately, he also had to withdraw from the Olympics and said that he would be available for the remaining events of the year. However, last week, he took to Twitter to announce that he would be retiring for the year, just like Nadal, due to a problem with his foot. Nadal explained that his foot has always been a question for almost two decades now. Just like Federer, Nadal also promised to be back and better in 2022. Both men are currently tied with 20 Grand Slams, and 2021 could be a defining year for either.
The next person who has also withdrawn from the US Open is Serena Williams. Williams, who is currently on the chase for her 24th Grand Slam, announced her withdrawal on Wednesday to properly heal from a torn hamstring. Williams had to pull out of Wimbledon, where she sustained the injury and skipped the Tokyo Olympics as well.  Her sister, Venus, also announced her withdrawal as well.
The last person on our list is defending champion Dominic Thiem. A wrist injury would keep Thiem out of the US Open and off the court for the remainder of the season. Thiem last played at the Mallorca Open back in June, where he injured his wrist. He had to skip Wimbledon, his first absence from a Grand Slam since 2014. Unfortunately, the injury, which seems pretty serious, would keep him off court till the end of the year.
Leave a comment