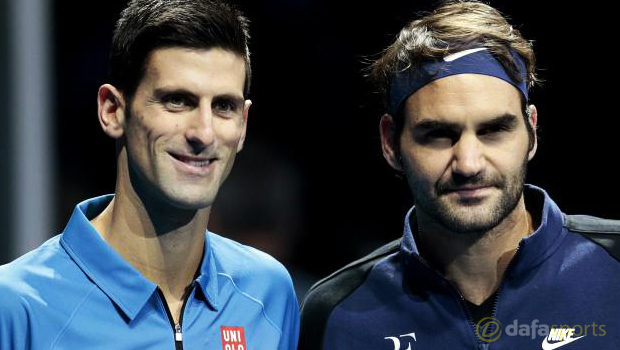 Roger Federer and Novak Djokovic will slug it out for the 45th time on Thursday for the right to play in the Australian Open final.
The pair advanced to the semi-finals at Melbourne Park earlier this week and will clash for the 15th time in a Grand Slam event when they take to the court Down Under.
The head-to-head record stands at 22 wins apiece and so something will have to give when they go at it again in yet another high-profile encounter.
Federer dominated the early exchanges between the pair but Djokovic has emerged as the dominant force in the sport in recent years and appears to have a stranglehold over the Swiss legend at present.
He is also six years younger although Federer has shown no signs that age is catching up with him just yet, with a march to the final of Wimbledon and the US Open last year.
Unfortunately, he ran into the Serbian on both occasions and went down in four sets at SW19 and Flushing Meadows.
He has been stuck on 17 Grand Slam wins since beating Andy Murray in the 2012 final at the All England Club and admits securing number 18 "would mean a lot to me, no doubt about it."
Dafabet make Djokovic a 1.33 favourite with Federer on offer at 3.30 but the world number one knows that he will not be able to take his foot off the gas at any time.
"He's got a great variation from the backhand side with the slice, short slice. He's got great defence, amazing offence," Djokovic said of his opponent.
"He's very complete. He puts constant pressure on the opponent. You have to be aware at all times. You've got to be tough. You got to be concentrated."
Leave a comment