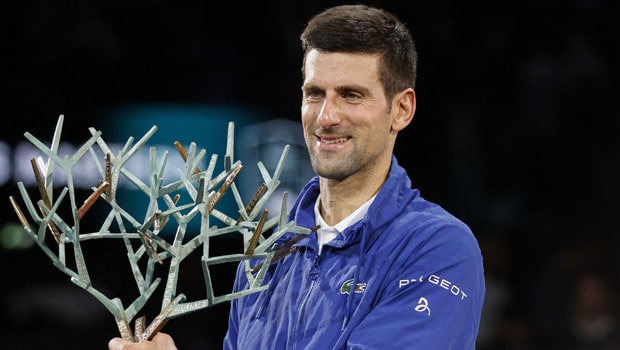 World number one Novak Djokovic continues to take his legend further as he has now won the Rolex Paris Masters for a record sixth-time, becoming the man with the most titles at that event. The win also gave Djokovic his 37th ATP 1000 title, making him the man with the most ATP titles in history
Djokovic defeated Daniil Medvedev 4-6 6-3 6-3 in Paris on Sunday to claim his fourth title of the year. Medvedev was the man who denied Djokovic the chance to create history when he defeated him at the final of the US Open back in September. The Paris Masters was the first event Djokovic played in since his September loss and it ended on a good note for him.
The victory came a day after Djokovic ended the year as the world number one for the seventh time, making him the first man to do so. Djokovic already beat Roger Federer's record of most weeks spent as world number one earlier this year, and now he has ended the year as world number one more than any man in tennis. While Djokovic may not have won the Golden Slam as he wanted, he has achieved a lot this year that would not be equalled or surpassed any time soon.
When asked whether he had moved on from the loss in September, Djokovic said he was no longer thinking about it and even said that he was glad the Grand Slams were over for the year as they had put some pressure on him; "I'm very relieved that the Grand Slam season was done because I felt a tremendous pressure unlike anything I felt in my life. It was an interesting experience, and I'm very satisfied with the way I played in the Grand Slams."
With so much he has achieved this year, Djokovic would be seeking to do a lot next year as he bids for a 21st Grand Slam title, starting with the Australian Open. Before then, however, he would compete at the Nitto ATP Finals later this month where he hopes to equal Federer's record of six titles, before moving on to the Davis Cup.
Leave a comment