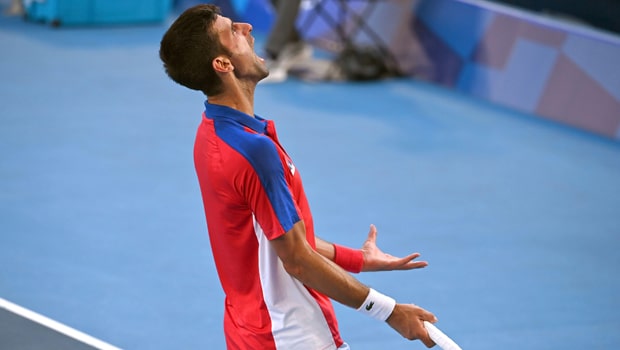 World number one, Novak Djokovic, has suffered his biggest loss of 2021 after failing to win any medals at the Tokyo 2020 Olympics. This is the third time Djokovic would be going to the Olympics and return empty-handed. He had managed to reach the semifinals after defeating Kei Nishikori 6-2 6-0. He, however, fell to the hands of German Alexander Zverev, forcing him to contend for third place.
Djokovic was also teamed up with Nina Stojanovic for the Serbian mixed doubles but they also crashed out after they were defeated 7-6 7-5 by team Russia pair Aslan Karatsev and Elena Vesnina. On Saturday, all hope was lost after Djokovic was overpowered by Spanish Carreno Busta, losing the match 6-4, 6-7 (6), 6-3.
Three losses in a row, very uncharacteristic of someone who has won three out of the three Grand Slams so far this year. Djokovic was hoping to win gold at the Olympics to give him the chance of completing a Golden Slam, which is winning all four Grand Slams and an Olympic Gold Medal in one year. Djokovic had never had luck at the Olympics and he was even warned by his father Srdjan Djokovic, not to participate in the Olympics due to past experiences and the fact that spectators would not be allowed at the tournament. Djokovic, out of patriotism, and the likelihood of achieving a Golden Slam, went ahead.
Djokovic still had one more chance to redeem himself, with the mixed doubles event, but he withdrew, due to a shoulder injury. But it may have been more out of disappointment and frustration, which was very visible as he smashed his racquet after losing to Busta. He later apologised to Nina and Serbia, saying "I'm sorry that I disappointed a lot of sports fans in my country, but that's sport. I gave it all, whatever I had left in the tank, which was not so much. I left it out on the court."
Alexander Zverev later defeated Karen Kachanov to win the men's singles Olympic gold medal.
Leave a comment