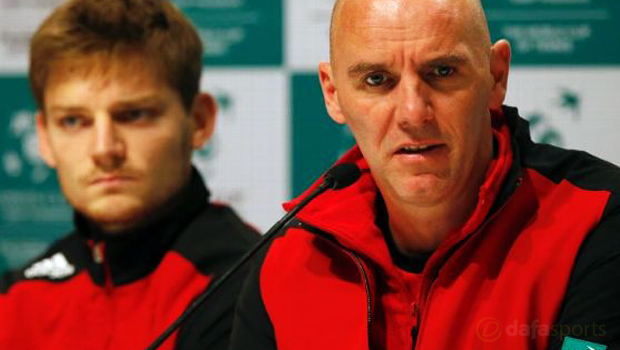 Belgium captain Johan Van Herck insists his men will be fully focused on beating Great Britain in the Davis Cup final, despite the ongoing terror threat in the country.
The Belgians will host the showpiece event this weekend, with the opening singles rubbers set to take place on Friday, but the match has been overshadowed by recent events in Paris and Belgium.
It appears as though the devastating attacks in the French capital may have had their roots in Brussels and the nation remains on the highest alert, with the government still insisting there is a real threat of an imminent attack.
The final is being played in Ghent, about 35 miles away from the capital, and security will be tight, with the GB team declaring themselves more than happy with the facilities and their own safety.
And Van Herck has urged his players to rise above the recent events to concentrate on being prepared for the high-profile tennis battle.
"We try to focus on the sporting side," he said. "We cannot do anything about security.
"We have to see if we can get ready as a team. We have to be ready to get a good result as a team. So we try to focus on the job and we will be ready on Friday."
The Brits are 1.25 favourites to lift the trophy on Sunday, with the hosts on offer at 3.75, and the make-up of the British team means the outcome of Saturday's doubles will be crucial to the result.
Andy Murray is likely to win both his singles matches but Belgium number one David Goffin hopes to put up a bit more resistance against the Scot than when he took just one game from the world number two at the Paris Masters earlier this year.
"I think the day I played Andy in Bercy, it was just an off day for me," he said. "I didn't play really well. But Andy was really aggressive. He played an unbelievable match there."
Leave a comment