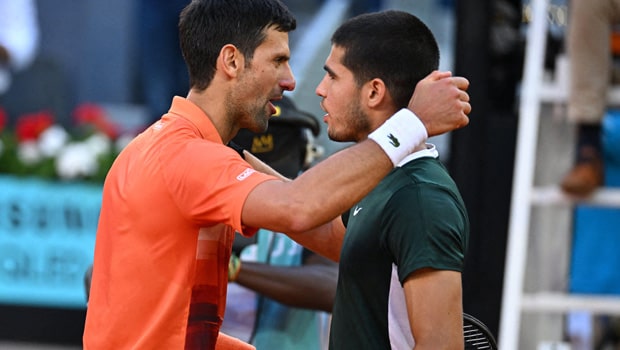 2021 French Open runners-up Stefanos Tsitsipas believes Carlos Alcaraz and Novak Djokovic are favorites for the upcoming Roland Garros. Alcaraz has been in terrific form as he has recently won Miami Open and also clinched Mutua Madrid Open before taking rest from the Italian Open to be fully ready for the French Open.
On the other hand, Novak Djokovic won his first title of the season as he defeated Stefanos Tsitsipas in the final of the Italian Open. Djokovic didn't even drop a single set throughout the tournament as he was at his absolute best. Thus, a title before the Roland Garros will give a shot in the arm to the reigning champion.
Meanwhile, Carlos Alcaraz had recently defeated Novak Djokovic in the semifinal of the Madrid Open. Furthermore, the 19-year-old youngster had also beaten his idol, Rafael Nadal in the quarterfinal clash. Ergo, he had become the first player to beat both Nadal and Djokovic in the same event on clay.
On the other hand, Stefanos Tsitsipas, who has a good game on clay, feels he isn't at his best and will need to make minor tweaks in his game to be a strong contender for the Roland Garros.
Tsitsipas told reporters, "Right now Carlos Alcaraz or Novak Djokovic. They both play great, great tennis. I would put them as favorites. "Right now I need to improve a few things in my game. I don't know if I'm going to get there, but I hope I do with my hard work by the time Roland Garros begins.
"I'd love myself to get around with these players and be there with them. But I will really need to put a bit more attention to detail in the next couple of weeks."
The French Open will begin on May 22 in Paris.
Leave a comment