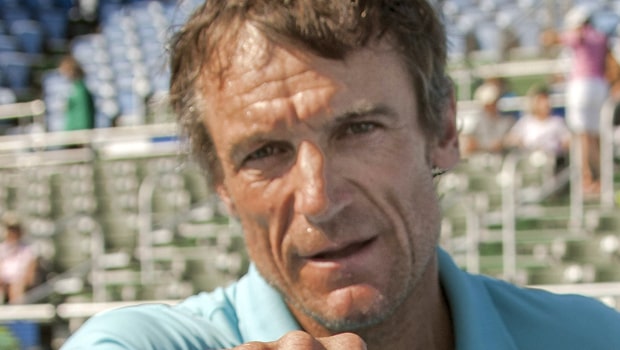 Seven time Grand slam champion Mats Wilander reckons Andy Murray is now being very close to the player he was during his heydays. Murray had an inspirational run at the Wimbledon 2021 as he qualified for the third round but lost to Canada's Denis Shapovalov in straight sets.
The first round US Open match between Andy Murray and Stefanos Tsitsipas was expected to be a thrilling contest and both players didn't disappoint. In the end, the world no. 3 won in 4 hours and 49 minutes by 2-6, 7-6 (7), 3-6, 6-3, 6-4 at the Arthur Ashe Stadium on Tuesday.
Murray gave a run for his money to the Greek player as the Briton played at the top of his game. In fact, the former World no. 1 could have sealed the match in three sets had he not slipped in the second tie breaker but it wasn't to be.
Murray showed great courage against Tsitsipas and has drawn praise from all over the globe. The 34-year old Murray has done an incredible job to be playing at the top level despite going through a career changing hip surgery.
"It was one of those matches that I was positively surprised that he was as good as he was," Wilander said. "You also reminisce when you watch him play like he did today and think wow, he is such a great player. "I think in the end he most probably lost it because he hasn't played enough of these matches. I feel he got a little irritated, I don't know if it affected him. "Was he good enough to win the match? In the end, no.
"But certainly he is on his way – he is playing good enough to keep on going, keep training and then these matches will make him a better player again because he is very close. "Andy Murray could have won that match with a little bit of luck, but that's the difference. "He used to win these matches, but now he just needs a few more of these types of matches. What he has told the younger generation is that he's not done, he is training well enough, he is strong enough, five sets on Arthur Ashe against Stefanos Tsitsipas is pretty awesome.
Murray certainly showed a lot of heart in the first round against Tsitsipas but could not get over the line against the Greek youngster. Tsitsipas will now face Adrian Mannarino in the second round of the US Open.
Leave a comment