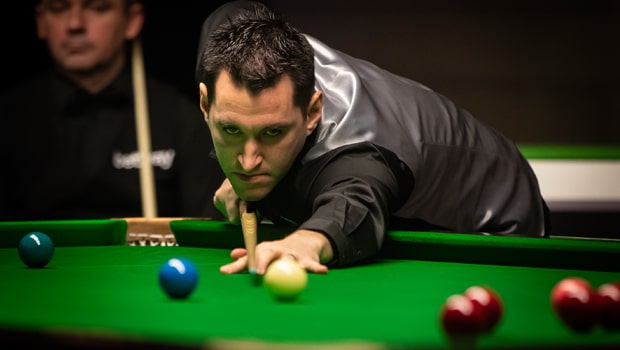 Tom Ford admitted his endurance was as pleasing as anything after he overcame China's Lu Ning 6-5 at the UK Championship.
Ford advanced to the last-eight for the first time at a Triple Crown event and will face either Judd Trump or Joe Perry in the quarters.
There was never more than a frame between the pair in an epic clash which lasted four hours and 45 minutes, and Ford was soon aware he was in for a long stint at the table.
"I could see from the first frame that he was playing really slowly and normally when that happens my head goes and I find it really difficult to stay concentrated," he said.
"So the thing I am most pleased about with this win, is that I hung in there and managed to get over the line."
Ford top-scored with a century run of 108 in his win, though he suggests he'll need to improve considerably to make the semi-finals.
"I honestly don't think I have played particularly well so far in this tournament. I've had a few 6-5 wins and Alan McManus didn't turn up in our match.
The draw opened up a bit for me, but I know I will have to play better in the quarter-final," he added.
Masters champion Mark Allen is also through the last-eight after making back-to-back century breaks in the final two frame of a thrilling 6-5 win over Neil Robertson.
The Pistol was thrilled with his closing skills against the former world champion and now has a quarter-final against 2004 UK champion Stephen Maguire to look forward to on Friday.
"There were errors, but I thought I was the better player. You aren't going to beat a class act like Neil too often from 5-4 down.
He didn't score a point in the last two frames so it was a good way to close out the match," said Allen.
Allen is now 7.50 to win the UK Championship, while Scotland's Maguire is 15.00 after recovering from 0-4 down to defeat world champion Mark Williams 6-5 on Wednesday.
Leave a comment