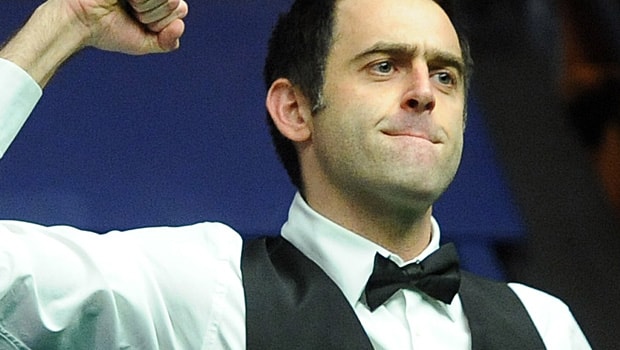 Ronnie O'Sullivan has continued his convincing start to the season with another win, this time with Barry Hawkins at the receiving end of the stick. The Rocket made one century break en route to an amazing 4-1 win over Hawkins.
With this win, the 41-year-old has secured himself a spot in the last-eight of the World Grand Prix 2020. He is poised to lock horns with Kyren Wilson in what many deem a repeat of the 2020 World Championship final.
The winner of that tie kicked off his game with Hawkins on the front root, ratting off a century to win the first frame comfortably. He doubled his lead soon after, though without any big breaks. But his amazing performance in the second was enough to outfit his rather silent opponent.
The third wasn't as smooth as he had it earlier when a fluent break of 58 was curtailed by a foul. However, Hawkins couldn't match Ronnie in resilience, skill, or finesse on the night. O'Sullivan sunk the cue ball into the pocket when it came down to a respotted black to lead the line 3-0.
Hawkins grew into the game in the fourth frame, racing off to a break of 40. However, a slip-up allowed Ronnie to place his foot in the game as well. But a miss on the brown gave Hawkins a fine chance to snap up the frame, which he did, primed to perfection.
Hawkins' confidence was immediately boosted, and he began to show glimpses of excellence and a commandeering spirit. However, it seemed too late for the 41-year-old who had let Ronnie stir the ship wherever he wished throughout the night.
O'Sullivan took the game by the scruff of its neck and ended Hawkins' dream of starting a comeback or making his way to this year's World Grand Prix quarter-finals.
Elsewhere, Judd Trump has spoken up about his achievements in recent years. The world number one decries not being appreciated enough for being the sport's most dominant player for quite some time now. Juddernaut completed a dramatic 4-3 win over Stuart Bingham in the competition's last-16 tie to set up a draw with Martin Gould in what would be his 100th competitive match in the year.
Leave a comment