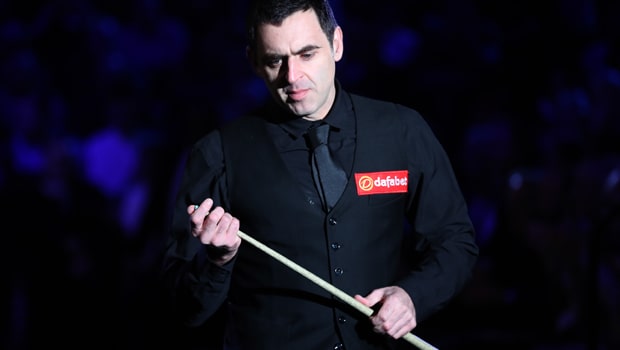 Despite continuing a near-flawless season with a 6-3 win over Ryan Day to book his Dafabet Masters semi-final spot, Ronnie O'Sullivan insists "it's touch and go in most matches" he plays. 'The Rocket' needed to dig in to see off the determined Welshman at Alexandra Palace.
They shared the first six frames before seven-time Masters champion O'Sullivan edged in front 4-3. Day led 66-0 in frame eight but a loose safety allowed his opponent in and O'Sullivan countered with a 78 clearance that proved the turning point.
He would make a 92-break in the next frame to cement his place in a 14th Masters semi-final. "The frame I snatched to go 5-3 was a big turning point," said 43-year-old O'Sullivan.
"At one stage I was sitting there thinking if Ryan beats me he could go on and win the whole tournament. He's a class act and a class player."
World number three O'Sullivan is aiming for his fourth title of the season, having already won the Shanghai Masters, Champion of Champions and UK Championship.
Should he prevail in Sunday's final it would mean a record-extending 20th career Triple Crown win and his eighth Masters title.
The five-time world champion was not at his best in the early part of the match against Day although he said he picked up some chance advice to solve his woes.
"I found out my dance teacher was here," he said. "I said to him, 'I haven't got any rhythm going'. He told me go 1-2-1-2-1-2-1-2-3-4 and that sort of worked for me! Once you get the rhythm going you're ok."
Despite the titles flowing and the records falling, O'Sullivan remains adamant he's got very little to spare on the chasing pack.
"It's a fine line between winning and losing these days. I'm not that much better than anyone else," he added.
"It's very close between eight or nine players. I know its touch and go in most matches you play. It just comes down to how you play on the day."
O'Sullivan is the 1.83 favourite to be crowed Dafabet Masters champion on Sunday evening. Meanwhile, world number one Mark Selby faces Northern Ireland Open winner Judd Trump in the third quarter-final on Friday afternoon.
The 'Jester from Leicester' edges favouritism at 1.80, with Trump 6.50 to win the match 6-4.
Leave a comment