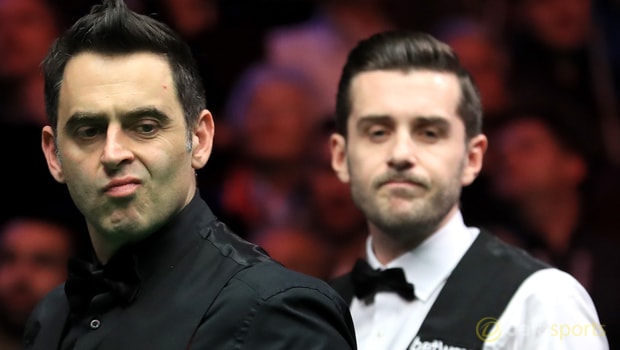 World number one Mark Selby insists he will be happy with his lot even if he never wins another title having downed Ronnie O'Sullivan to claim his second UK Championship crown.
Selby became just the sixth player in history to claim both the World Championship and UK titles in the same calendar year – following O'Sullivan, Stephen Hendry, Steve Davis, John Higgins and John Parrott.
The Leicester-potter was also completing snooker's Triple Crown of World, UK and Masters titles for the second time in his career.
Selby has now got the better of O'Sullivan in all three major finals, something he admits is a source of great pride.
"Just to win the UK is a great feeling anyway, but as I said when I won the world for the first time, if I was to go on and win a big tournament I'd like to play Ronnie in the final and to go on and win.
I have done that in the Masters, World and the UK so that is a fantastic feeling," he said.
Completing his second set of Triple Crown victories is a milestone for Selby that requires him to rethink his goals a little going forward.
"All of the records are special really, to win all of the three majors is a great feeling, but to do it twice is even better.
Now even if I didn't win another tournament I would be happy with my achievements so I have to set my goals a little differently," he added. Selby won a high-class final in York after a stunning concluding session.
Leading 6-2 from the afternoon, he was able to extend that lead to 7-2 before O'Sullivan piled on the pressure with breaks of 80, 134, 130 and 82 that helped bring him within one at 8-7.
Renowned as a steely match player, Selby showed he can break-build and score to match anyone with contributions of 134 and 107 – to go with a 137 earlier in the evening – as he closed out victory.
The final six frames of a scintillating UK Championship final included five century breaks as Selby and O'Sullivan traded knockout punches at will.
Selby is 5.50 to win next month's Dafabet Masters in London, while O'Sullivan is 3.50 to retain his crown.
Leave a comment