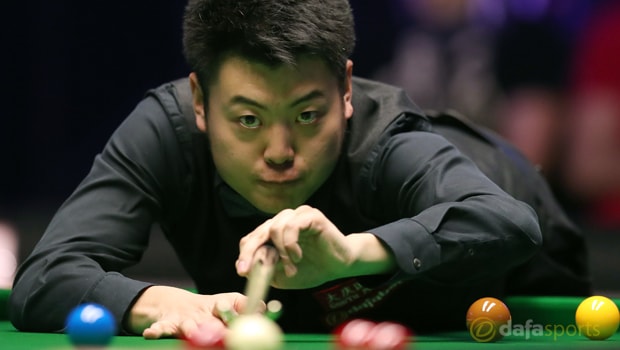 Liang Wenbo came within one pot of becoming the first player ever to make two maximum breaks in the same match at the World Championship Qualifying in Sheffield.
Liang made his 147 clearance in the 10th frame of his first-round clash with Rod Lawler, the third maximum break of his career and second of the season, having made one at the English Open.
Just a two frames later, Liang potted 15 reds with blacks then cleared the colours up to the black, only to miss a tricky pot to a top corner pocket, cueing from close to the side cushion.
The world number 19 would have become the first player ever to make two maximums in the same match and, despite winning the match 10-2, there was a tinge of disappointment.
He has vowed not to let the miss get in the way of his bid to qualify for the final stages of the World Championship in the Crucible Theatre later this month.
"It was a very good chance but it was a pressure black and not a very good angle," said 31-year-old Liang.
"I need to calm down before my next match. I need to focus on my game and concentrate."
The maximum was the 139th in snooker history and eighth of the season, while the 140 in frame 12 was enough to ensure victory for Liang and leave him just two wins away from the Crucible.
Liang is 101.00 to win the World Championship this season, with defending champion Mark Selby 4.50 and five-time winner Ronnie O'Sullivan favourite at 2.88.
Leave a comment