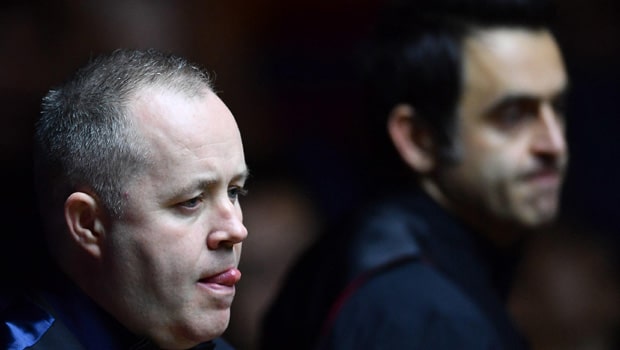 The veteran duo of John Higgins and Ronnie O'Sullivan have called it quits on their quest for glory in this year's Gibraltar Open campaign. So also has Amine Amiri, reports say.
O'Sullivan bowed out to John Higgins in Sunday's final showdown by a 10-3 scoreline and was poised to lock horns with Ali Carter afterward; while Higgins was scheduled to play Ronnie. With both matches to be played on Tuesday. The pair will be replaced by Hamin Hussain and John Astley. The former would take Higgins' place while the latter would play in place of Ronnie. The departure of Amiri who was scheduled to play Sunny Akani will now give Haydon Pinhey a chance to shoot for glory at the tournament.
Despite missing two heavyweights, the Gibraltar Open is still expected to be filled with headline-worthy actions. Judd Trump will be back in action to defend the crown he won only 12 months ago. Seven-times world snooker champion and retired veteran, Stephen Hendry is also expected to stage a surprise comeback soonest.
Talking of Trump, the world number one strolled past Robbie Williams to reach the second round of the tournament with a 4-1 scoreline. Juddernaut pulled off three half-century breaks in just a little over 60 minutes to cruise into the next round.
This win sets him up for a game against either of Haydon Pinhey and Sunny Akani. Trump looked sharp from the start to the finish, putting aside his Players Championship failure quickly. The 2020 Gibraltar Open champion started on the front foot with a break of 74 and then extended the lead further with a second frame win. Williams hit back in the next frame and hard too! However, that break of 85 wasn't enough to scare Trump into cowardice. The world number one took the game by the scruff of its neck and recorded a half-century break of 54 to come out tops in frame four.
A break of 84 in the fifth frame was more than enough to seal matters and his place in the next round. Elsewhere, Ding Junhui and Yan Bingtao suffered surprise losses in the first round while Shaun Murphy advanced to the next round in a routine 4-2 win over Ashley Hugill.
Leave a comment