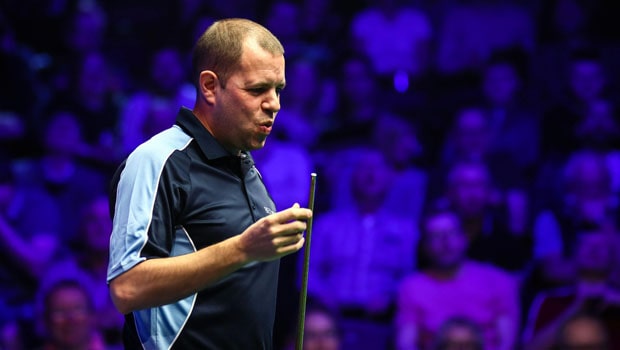 Barry Hawkins has eliminated Judd Trump after defeating him 10-7 at the 2021 Tour Championship quarter-final.
The 2021 Snooker Tour Championship began this week and games have been exciting as expected. The tournament, which is expected to take place from 22 to 28 March 2021, is hosted at the Celtic Manor Resort in Newport, Wales.
Judd Trump was paired up against world number 14, Barry Hawkins. Barry Hawkins defeated Trump by 5-3 in the first game in the afternoon.
Hawkins began the game on the front foot, registering a break of 70 to put himself one up in the opening frame before he managed to get for 90 in the second frame. He was well placed to hit a century but missed a decisive red.
In the third frame, Judd Trump showed signs of a comeback as he won Hawkins by 74-11.
The fourth frame witnessed Hawkins complete mishit a red, and also barely touching the ball, which proved to be advantageous to Trump. The world number one recorded a break of 119 to garner his 78th century of the season.
After the interval, Trump struggled to build on his momentum and get going. Hawkins won a low-scoring fifth by 56-7. The 41-year-old also snatched the sixth on the black to give himself a two-frame lead.
Barry Hawkins now had the momentum and secured this third frame in a row, with Trump conceding after Hawkins immediately produced a fine break of 63.
Judd Trump was obviously not pleased in the final frame of the session, but he gave himself a chance with a break of 98 ahead of the evening tie. In the evening tie, Hawkins won Trump by 5-4, to end the overall result at 10-7. The Hawk will now face Ronnie O'Sullivan.
The winner of the 2021 Tour Championship tournament will receive £150,000 out of a total prize fund of £380,000, while the current champion is Stephen Maguire.
In other earlier games, Ronnie O'Sullivan defeated John Higgins 10-8, Neil Robertson got himself a 10-5 win over Jack Lisowski, and Mark Selby won Kyren Wilson 10-3. Selby will square up against Neil Robertson today in the semifinals.
Leave a comment