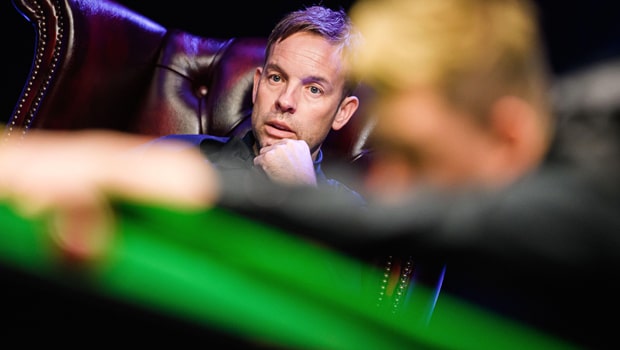 Ali Carter and Alexander Ursenbacher both won their respective group on day two of the 2021/22 Championship League at the Morningside Arena in Leicester.
World number 24, Ali Carter, and world number 45, Alexander Ursenbacher were unbeaten on day two of the Championship League. Both of them were very impressive as they won their respective groups to reach the last 32 of the season's first ranking event at the sweltering Morningside Arena in Leicester.
Two-time World Championship runner-up Carter had a 3-1 victory against Michael Georgiou, which included breaks of 61, 79, and 57. The 41-year-old also had a 3-0 victory over Sydney Wilson with knocks of 71, 60, and 63. He then drew 2-2 with Dominic Dale, which made sure he was undefeated in reaching the last 32 as Group 19 winner.
Ali Carter's break-off shot in the third frame of his 2-2 draw in his match against Dominic Dale was highly talked about as he smashed open the pack of reds via two cushions.
Swiss player Ursenbacher was equally in great form at the tournament. The 25-year-old was undefeated in all three of his Group 23 fixtures as he managed a 3-0 win over Aaron Hill. The 2017 English Open semifinalist also defeated Scott Donaldson, and Leo Fernandez 3-0 each, on Monday.
In other games played yesterday, Ronnie O'Sullivan defeated Saqib Nasir 3-0, after gaining a 3-1 success over Ian Burns.
Mark Williams had a 3-0 victory over Hammad Miah, then lost  3-0 to Peter Lines, before finally salvaging a 3-1 victory against Jak Jones. However, 51-year-old snooker player Peter Lines emerged winner of this group.
Group 7 was pretty straightforward for Ricky Walden as he easily secured the top spot to advance to the second stage.
The world number 32, beat Oliver Brown 3-1, Allan Taylor 3-0, and Nigel Bond 3-0 to finish top of the group with a perfect win record.
Leave a comment