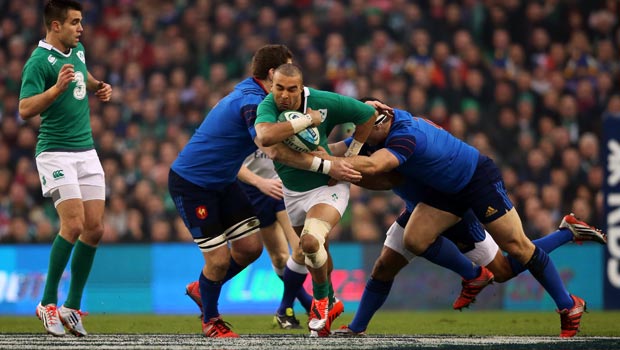 France head coach Philippe Saint-Andre believes that lock Pascal Pape's 10-week suspension is "very severe", while hinting that they may look to appeal the ban.
Pape was slapped with the ban last week after the forward was adjudged to have kneed Ireland number eight Jamie Heaslip in the back during France's 18-11 loss to Ireland.
Heaslip subsequently suffered three fractured vertebrae from the incident and will miss be unavailable for the next month, ruling him out of the crucial Six Nations meeting with England.
The Disciplinary Committee were clear in their condemnation of Pape's actions and admitted the 34-year-old's ban would have been longer had he not shown "expressions of remorse".
Saint-Andre still remains defiant that the former France captain did not use his knee intentionally and has only criticised him for receiving a yellow-card at a key moment.
The France boss believes his man has been hard done by and it is expected Les Bleus will appeal the decision in the hope of getting the ban reduced.
Pape said: "I find the punishment is very very severe.
"It was his last Six Nations, it is a shame it will finish like that for him and the France team.
"Pascal, and the lawyers from the Federation and Stade Francais (Pape's club) will reflect on whether to appeal (they have 14 days to decide after receiving written confirmation of the suspension).
"As a coach one is eager to tell him to appeal but if it is to risk a heavier punishment….that is really for the club to decide as it is Stade Francais who pay his wages."
Leave a comment