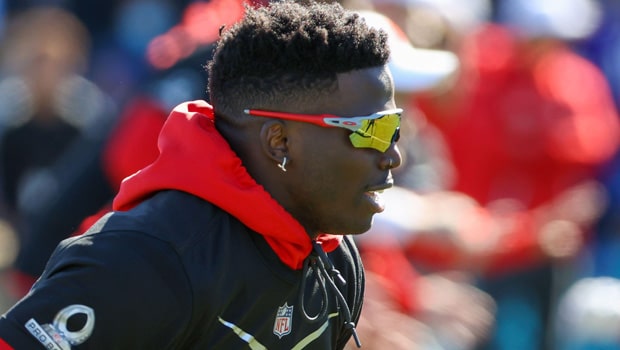 The Kansas City Chiefs traded wide receiver Tyreek Hill to the Miami Dolphins in return for a package made of five future draft picks. Miami sent back three picks in this year's upcoming draft, along with two picks in next year's draft.
"End of an era✌?!!! Miami I'm coming home," Hill said on social media.
Miami will now sign Hill to a four-year, $120 million extension with $72 million guaranteed, according to the the reports on Wednesday.
"It's hard to put into words what Tyreek has meant to Chiefs Kingdom over the last six years," Chiefs General Manager Brett Veach said in a formal statement. "He's a special player, one of the best in franchise history. He's been a large part of our success, including our Super Bowl championship run. This decision was incredibly difficult, but we felt it was a necessary move in the best interest of the team, and also for Tyreek. We wish him the best as he continues his career."
Hill is a six-time Pro Bowler and three-time first-team All-Pro, and helped the Chiefs win Super Bowl LIV. He signs his contract extension this week at 28 years old.
"I am happy for Tyreek, he has grown as a man and player here in Kansas City," Chiefs head coach Andy Reid said. "Myself, my staff and our organization appreciate all he did for our team. This move will also benefit the Chiefs, we now have cap space and additional draft picks to grow as a football team. I wish him well as he moves forward."
ESPN's Adam Schefter reported earlier in the day that the New York Jets reportedly also made an offer to acquire Hill from Kansas City.
Happiest person right now after all this? Other than Hill, of course, who is now the highest-paid WR in league history.
Dolphins QB Tua Tagovailoa who now has one of the best threats in the league on his side of the ball.
Hill is one of four players since 1970 with at least six TD catches in each of his first six NFL seasons. The others are Randy Moss, Larry Fitzgerald and Marvin Harrison.
Hill has gone to the AFC Championship Game in each of the last 4 postseasons.  The Dolphins — on the other hand — haven't won a playoff game since the 2000 Wild Card, the 2nd-longest active playoff victory drought in the NFL.
"The one thing the Dolphins are going to know by the end of this season is whether or not Tua Tagovailoa is their franchise quarterback," former player and current analyst, Ryan Clark, said on Wednesday.
Leave a comment