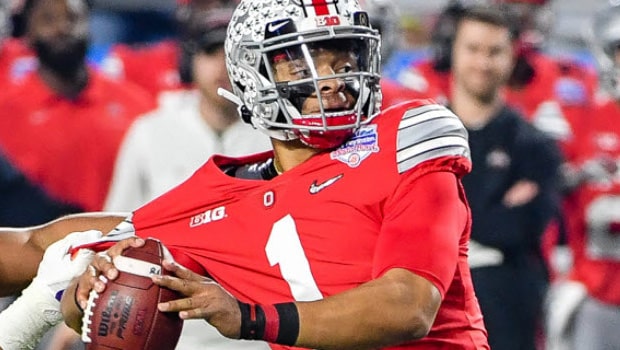 There's time but the Jaguars and Jets are on the clock and Justin Fields' play this season proves that he can be a franchise quarterback in the NFL. Fields just led Ohio State to the College Football Playoff National Championship Game against Alabama on January 11 and no matter what happens, he already made a name for himself and will likely make the Jaguars and Jets (the teams with the first two picks in the draft) consider him.
Fields is one of the best quarterbacks in college football and a great guy off the field. Fields was the starting quarterback at Harrison High School in Kennesaw, Georgia for two years. His accomplishments there were beyond impressive. He finished his high school career with 4,187 passing yards, 41 touchdowns, 2,096 rushing yards and 28 touchdowns on the ground. Justin Fields was also named Elite 11 MVP entering his senior season, as well as Mr. Georgia Football.
He also appeared in Season 2 of QB1: Beyond the Lights on Netflix. The show documented Fields' final season in high school. Wake Forest's Sam Hartman and Re-al Mitchell, who recently transferred from Iowa State to Temple, were also on the show. Think of QB1: Beyond the Lights as the high school version of Hard Knocks but focusing on individual talents. I recommend watching the show if you want to learn more about Justin Fields.
A big storyline before last season was Fields' decision to transfer from Georgia. A big question mark was whether he would be granted immediate eligibility. Fields chose Ohio State and he didn't have to sit out a year.
Georgia had him as one of their top recruits along with Trevor Lawrence and he decided to stay in his hometown. Fields was Jake Fromm's backup as a freshman. He completed 27 of 39 passes for 328 yards and four touchdowns with no interceptions in 12 games. The Kennesaw, Georgia product also ran for 266 yards and four touchdowns on 42 carries, averaging 6.3 yards per carry.
Justin Fields has completed 141 of 192 passes (73.4 percent) for 1,906 yards and 21 touchdowns with six interceptions in seven games this season.  While Fields is not a full-on dual-threat quarterback, he has run for 316 yards and five touchdowns on 75 carries, averaging 4.2 yards per carry this year. Fields' low interception total proves that he is a great decision-maker and that bodes well for his future.
Leave a comment