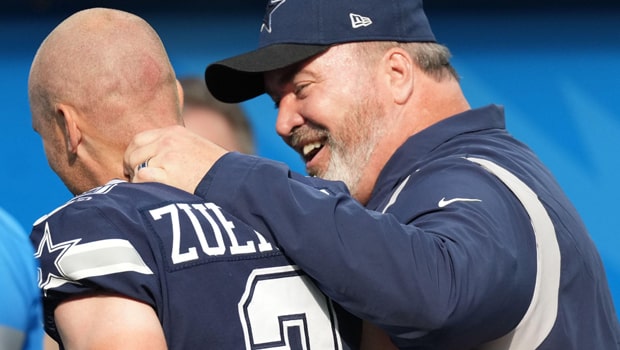 The Dallas Cowboys had technically already clinched the NFC East title, but that did not stop them from moving up to 11-4 on the season following a 56-14 thrashing over the Washington Football Team.
"We had confidence that we'd check this box," Dallas Cowboys head coach Mike McCarthy said prior to the game, "but this is about winning the division outright and staying in the hunt for a higher seed."
Cowboys QB Dak Prescott threw a touchdown to a RB, TE, WR and an OL vs Washington. He became the first quarterback in NFL history to accomplish this feat in a single game.
"Just a great team effort," Prescott said after the win.
Prescott finished with 330 yards, 4 TDs and a QB rating of 131.4.
"I wouldn't say that I was in a slump. I wouldn't say that," he said, referring to the team's play in weeks prior. "Now, I would also agree I wasn't playing my best ball. But at the same time I've just continued to work and continue to work at the things that I know, trust the guys around me, trust the receivers and I just think that's a process of that."
The Cowboys tied the franchise record for points in a first half when they took a 42-7 lead.
"I told them you play this game long enough, you're going to get beat like this," Washington head coach Ron Rivera said. "How you respond to it, how you bounce back, how you play, that tells more about you than anything else."
Amari Cooper, Dalton Schultz and Malik Turner each had 80-plus receiving yards and one receiving TD. CeeDee Lamb and Michael Gallup both had 50-plus receiving yards. Imagine this – the Cowboys put up 497 total yards of offense and 28 first downs.
Dallas was just outright dominant from the opening kickoff.
"Game after game and make sure we're playing our best ball as I continue to say and peaking at the right time heading into this tournament," Prescott added.
Looking ahead, Washington matches up with Philadelphia in Week 17 action while the Cowboys get set to face off with the Arizona Cardinals.
Leave a comment