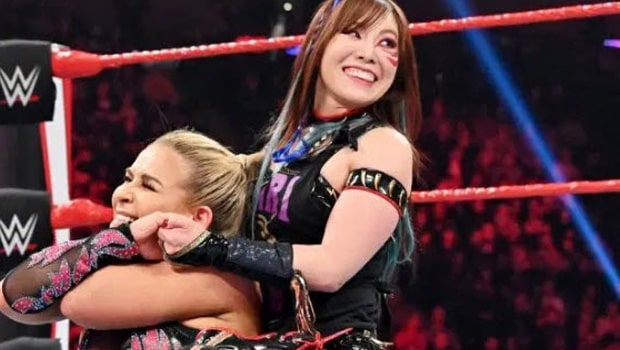 Kairi Sane reportedly was unable to get WWE permission to wrestle at a Stardom event. Sane returned to Japan to be with her husband last year and to work as a WWE Ambassador and she asked WWE if she could work the biggest show in Stardom history, which is scheduled for March 3 at Budokan Hall in Tokyo, but according to the Wrestling Observer Newsletter, WWE didn't let her. The Pirate Princess remains under contract to WWE.
Stardom left Sane's involvement up to WWE. The promotion wanted her to work a big singles match, but also let WWE the option of limiting her to a Legends-themed Battle Royal match. WWE simply declined. Sane wrestled for Stardom under the ring name Kairi Hojo from 2011 to 2017 and won the World of Stardom Championship, among other titles.
Sane has it all: talent in the ring, mic skills, charisma and beauty. The former NXT Women's Champion and WWE Women's Tag Team Champion announced in October that she would "still train and support WWE" from Japan in an ambassador role.
Kairi had her first online talk show on December 5. Eduardo Solano, from FOX Sports Radio 1340 AM Hopewell and AccuScore attended the event. Below are some of her answers at the Q&A session.
In the talk show, Sane listed her WWE Women's Tag Team Championship match with Asuka against Becky and Charlotte in the main event of TLC last year, celebrating her NXT Women's Championship win with Sasha Banks and Bayley and winning the NXT Female Competitor of the Year and Overall Competitor of the Year awards in 2018 as moments that made her happy in WWE.
On the number one advice for the next Japanese talent who will join WWE: "Please don't compare yourself to others. I believe there is something only you can do!"
When asked who would she face if she comes back to WWE or NXT, Asuka or Io Shirai?, she said: "It's my dream to face Asuka-san or Io-san, I hope so! One day!"
As for advice she would give her past self if she could go back in time: "Don't be afraid of making mistakes, it's important to make a lot of mistakes if you want to learn wrestling English."
She listed her favorite Pirate movie: "I love Pirates of the Caribbean! Johnny Depp is very fun and talented I love him! I love Captain Hook of Peter Pan, I love his character he is so fun!"
Kairi Sane thinks that Women's wrestling will finally be mainstream one day: "Why not? We need a new women-only show regularly, we can do it, now our women's wrestlers are passionate and I am sure they will be more in the future," she explained.
Leave a comment