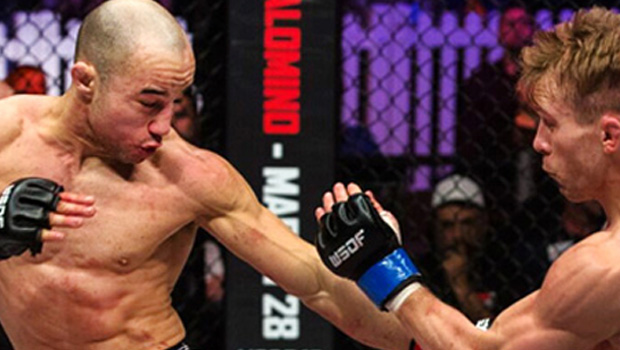 Calling the attention of MMA fans! Get ready for another full-packed action in the octagon this coming July 30 as

Moraes-Hill

second meeting is officially set and will be air live at Xfinity Arena in Everett WA.
The rematch between two superstars is a sequel of their previous clash last February 12, 2015 at WSOF 18. The contest went to a 5-round distance with Moraes successfully defended his coveted title. 17 months have passed and now the two fighters will once again test their pride in the cage.
In an interview with Ray Sefo WSOF (World Series of Fighting) President, he states that WSOF 32 is truly a showdown of world-class fighters.
"The magnitude of this event has increased dramatically with the addition of a second world title rematch between Marlon Moraes, who has been unstoppable in the cage and one of the most formidable and talented contenders Josh Hill" Sefo added.
Marlon Moraes holds a record of 16-4-1 and a former Muay Thai champion. Apart from that, the 5-foot-6 fighter also possesses a brown belt in Brazilian Jiu-Jitsu and who's dominated the 135-pound division since 2011.
Overall, he comes from a winning streak with 11 consecutive fights and 3 of them are title defenses of his WSOF journey.
His last defense was with Josh Rettinghouse back in February of which he ignited victory via unanimous decision. And on March 2014 he scored a brutal TKO against Joseph Barajas via rapid-fire leg kicks.
On the other hand, his opponent Josh Hill freshly came off from a victory against Bendy Casimir last April 9 which took place on Medicine Hat, Alberta Canada.
Other actions on WSOF 32 include Phonix Jones aka Ben Fodor will enter the octagon against his brother Caros "The Future" Fodor in a 162-pound catch weight bout.
Another most awaited main card is Lance "The Party" Palmer (10-2) making his comeback against the man who defeated him in the past, Alexandre "Capitao" Almeida who holds the record of (18-5).
Palmer successfully defended his Title against Chris Horodecki however, he struggled to hit and even take down the bigger Almeida. The fight went to distance and scorecards were given to the latter at 48-47.
Stay tuned for other WSOF 32 updates only here at DafabetSports.
Leave a comment