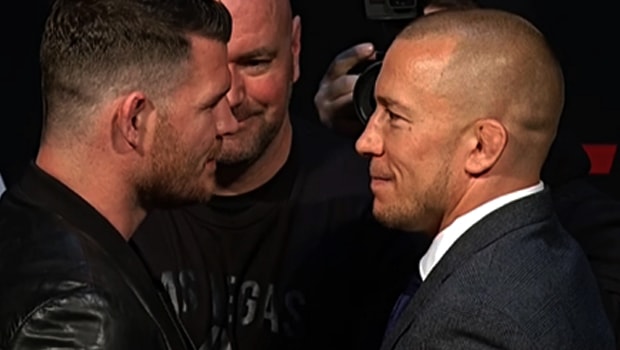 Georges St-Pierre admits he is not completely satisfied with his new UFC contract ahead of his upcoming fight with Michael Bisping.
The three-time former welterweight champion has not been in competitive fight action since securing a split-decision victory over Johny Hendricks in November 2013.
One of the reasons behind the Canadian's prolonged absence was his long-standing contract negotiations with the UFC.
He has now signed a deal with the organisation although he admits he is not completely satisfied.
"To tell you the truth, it's not exactly what we really wanted, it is still a little bit below what we really wanted in the beginning," St-Pierre told the MMA hour.
The 35-year-old insists he does not regret signing the contract, as his "love for the sport" was the main motivation behind his decision.
He added: "I wanted to be back, the emotional side of it made me accept the deal. I don't regret it, I am happy."
St-Pierre's first fight back will be against reigning middleweight champion Bisping later in 2017, as he bids to improve on his record of 25 wins in 27 professional mixed martial arts bouts.
Bisping has already started the war of words ahead of the fight, but St-Pierre insists he only wants to do his talking on fight night.
"English is not my first language, and I'm just not good at trash talking," St-Pierre added.
"I do my talking in the fight. I'm not a good talker, I'm a good fighter."
Leave a comment