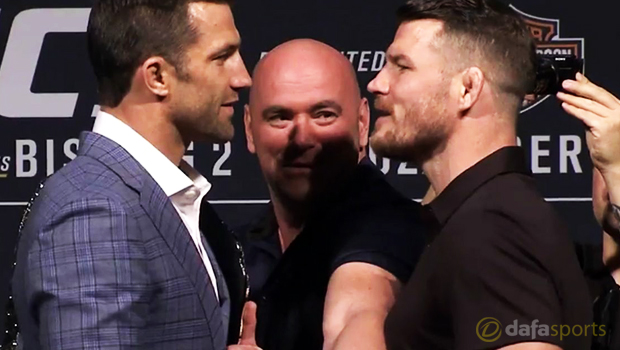 Not so fast after the McGregor-Diaz showdown, another great event of "two rivals trying to test their pride" is about to happen this Saturday, June 4, 2016 in The Forum Inglewood, CA.
A supposed-to-be Rockhold-Weidman 2 fight has turned out different after Chris Weidman backed out on Saturday afternoon due to neck injury on short notice, which put the bout on hold. While Ronaldo Souza was the other option, he refused to set his next-in-line status due to post-fight knee injury (Round 1 TKO against Vitor Belfort). Considering the stats and fighting skills, Michael Bisping became the wise choice to replace Weidman's absence.
On Saturday, UFC 199 takes place and airs on PPV with Rockhold-Bispingheadliner and 4 other main cards. Rockhold is the number 1 MMA fighter today and summing up the records, the fighter defeated Bisping via 2nd round (guillotine choke) submission in 2014. Coming out from the defeat, Bisping rebounded 3 consecutive wins including the fight with Anderson Silva, which kept him holdback to the rankings once again.
Latest UFC Odds by Dafabet

UFC 199 is a "nothing to lose" fight for Bisping. Although Rockhold is expected to defeat him on Saturday night, he doesn't consider himself as an underdog. In a press conference, Bisping explained that he was in the movie shoot when the news about Weidman's withdrawal to the upcoming rematch came out. After which, he contacted Dana White to do business as the replacement. At that time, Souza also declined to fight. The misfortunes of two fighters became fortunate for Bisping who has now recorded 25 fights at the age of 37.
During the interview, the fighter shares his insights about Rockhold. "I know what he's capable of and he's a very good fighter but the opponent isn't important. This is me, this is about fulfilling my destiny and whether or not it's Luke Rockhold, Muhammad Ali or Godzilla, it doesn't really matter" he said. On the other hand, Bisping is confident and is sure to give the best shot to dethrone Rockhold. "It's going to take a bullet to the brain to stop me on Saturday night" he added.
Matchup Analysis:
Speaking of the abilities, both fighters are no doubt well rounded mixed martial artists. However when it comes to physical attributes, Rockhold has the advantage – height, reach and age. Rockhold is more natural athlete that Bisping although he certainly possesses longer experience. Considering the accuracy of both fighters, Bisping has more output compare to Rockhold.
That means, he is less accurate with his strikes to he tends to get hit due to slugfests. Basing from his stats, most of his attempts or 86 % are aimed to the head while the strikes to the body at 7%. Despite several loopholes to Bisping's part he has a great stamina though his intense workouts which is definitely overwhelming to his opponents.
Contrariwise, Rockhold maintains his balanced striking approach – 76% of his strikes are to the head and 16% to the body and legs. Speaking of distance plays, he has the advantage with 69% and 10% are purely clinching and whopping. Rockhold has the ground advantage as he has the lethal abilities to obtain TKO or submission.
UFC 199 is a test of power and versatility. These two are amongst the x-factors that would truly define the difference in this fight. Above all, the pride is the one that keeps these two warriors to fight up to the last blow. Let's just see how they will perform in the most awaited night. In the meantime, checkout other fight cards below:
Main Card (PPV, 10 PM ET)
Dominick Cruz vs. Urijah Faber
Max Holloway vs. Ricardo Lamas
Dan Henderson vs. Hector Lombard
Bobby Green vs. Dustin Poirier
Preliminary Card (FS1, 8 PM ET)
Clay Guida vs. Brian Ortega
Beneil Dariush vs. James Vick
Jessica Andrade vs. Jessica Penne
Alex Caceres vs. Cole Miller
Preliminary Card (Fight Pass, 6 PM ET)
Tom Breese vs. Sean Strickland
Luiz Henrique vs. Jonathan Wilson
Kevin Casey vs. Elvis Mutapcic
Dong Hyun Kim vs. Polo Reyes
Leave a comment