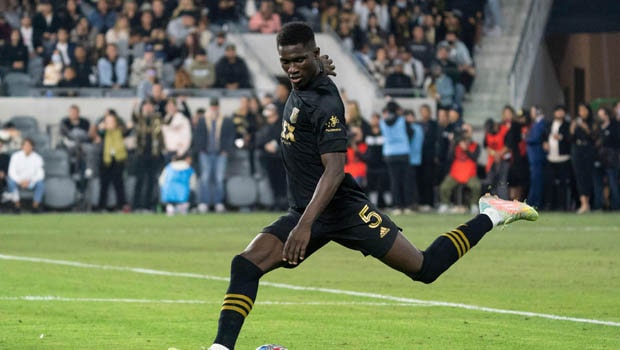 Mamadou Fall's equalizer in stoppage time allowed for LAFC to earn a 1-1 draw at home against the Portland Timbers. Portland was playing with a 10-man lineup following Claudio Bravo's red card in the 62
nd
minute.
Earning a point on the road is never an easy task, but Portland still must be feeling a sense of disappointment given how dominant they were through the first 60 minutes of the match.
"It is frustrating from the players' standpoint," Portland coach Gio Savarese said.
"For my part, the only thing I can say is the sacrifice the players put in, yes, we wanted to get three points, we wanted to win the game, but the guys sacrificed enough in the game to achieve that. Even with all the attacking moments [LAFC] put in in the second half, it was all the way until the end."
Portland found the back of the net first, and early, thanks to a bicycle kick from Yimmi Chara (18th minute).
It was Chara's second bicycle kick goal in the past two games. First on Feb. 26 against New England, and this time against LAFC.
"It was a great effort, but we leave today with a sour taste in our mouth," Chara said after the match.
Despite the final result being a draw, Chara did win man of the match honors.
LAFC dominated the possession battle, 68-32, but finished with just two more shots on goal than did Portland.
"At the end of the day, playing with 10 men and still coming here and getting a point is something I still think is positive," Savarese added. "I leave with the thinking process of how proud I am of the sacrifice the players put in. This is a team that is hungry to win games."
LAFC did have to deal with some injuries throughout as both Carlos Vela and defender Diego Palacios were forced to step off. Vela came off at the break, referred to as just a decision to be safe vs sorry from the team's perspective, while Palacios was replaced by Latif Blessing in the 67th minute.
Portland now has two draws to start the 2022 season. They'll look to turn the tide next Saturday, 12 March when they host Austin FC.
LAFC are back in action this upcoming weekend as they hit the road for a matchup with Inter Miami on Saturday, 12 March.
Leave a comment