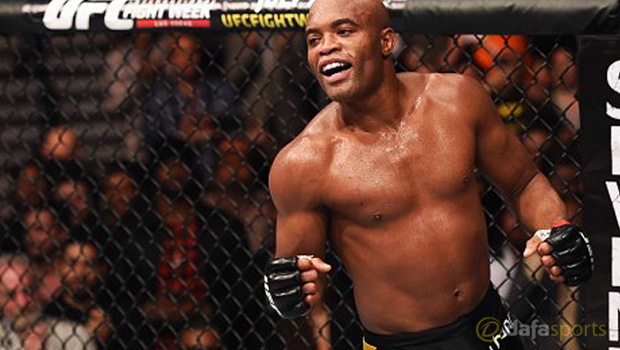 It's now official! Anderson "The Spider" Silva replaces Jon Jones after the alleged USADA Anti-doping violation and will fight in the 3-round bout against Daniel Cormier on Saturday.
Anderson Silva is making a comeback in the octagon which was seen from UFC official twitter account minutes ago captioned "Cormier vs Silva #UFC200".
The former light heavyweight champion was supposedly scheduled to fight in the UFC 198 against Uriah Hall but announced his withdrawal due to abdominal injury in the training camp which required surgery.
After 6 weeks of being out he now appears ready to go for UFC 200.
Cormier-Silva fight is set non-title at 185 pounds but has been known to jump to 205 pounds.
Silva has been known for knocking out great fighters and among the greatest victories were Forest Griffin via knock out in 2009 and besting Stephen Bonnar in the first round back in 2012.
He freshly came of 3 straight victories in his last 4 fights but struggled with the middleweight title against Chris Weidman in 2013.
On the other hand, Brock Lesnar Vs Mark hunt remained the co-main event in the upcoming UFC 200.
Instead, Dana White made some changes and announced that Miesha Tate Vs Amanda Nunes will be the new headliner of which the President thinks the bout deserves the spotlight for taking the belt off to Holly Holm, the one who've defeated Ronda Rousey.
Leave a comment