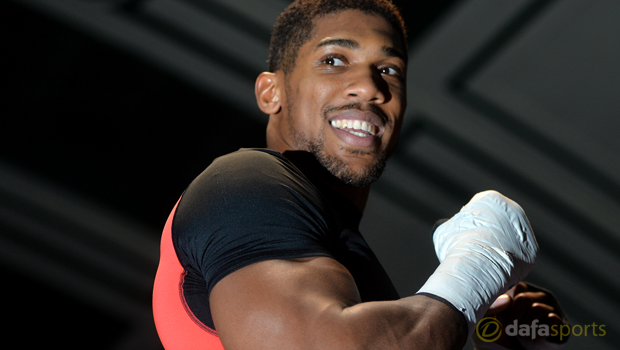 Anthony Joshua has revealed he is ready to stand and trade when he looks to claim the IBF world heavyweight title from Charles Martin on Saturday night.
The Brit is on the verge of his biggest match since turning professional after winning gold at the 2012 London Olympic Games.
Joshua boasts an impressive unbeaten record with all of his 15 victories coming via knockout and his longest match lasting seven rounds.
The 26-year-old's toughest fight to date came against fellow Brit Dillian Whyte last time out and he admitted he is expecting a similarly explosive battle.
However, the British and Commonwealth heavyweight champion believes he also has the superior technical ability to see off Martin if that's what it takes.
Joshua said: "They know when it comes to these big heavy-hitters we don't play games, we're here to go to war.
"I'll probably go out and try to take his head off.
"You know what I'm like, I'm fighter man. I'm not going to go in there and dance around and try to evade punches. I'm going to walk through two to give him five. That's just how it goes, I'm coming for him.
"But if I have to show some technical ability as well to defeat Charles Martin, I'll do it, that's what I said.
"I'm here to box, but at the same time I know I'm ready to swim through deep waters to get it. It's not going to be easy, I know that for a fact, no fight is easy. That's why I said to you I will box and hopefully it will be an easy night."
Leave a comment