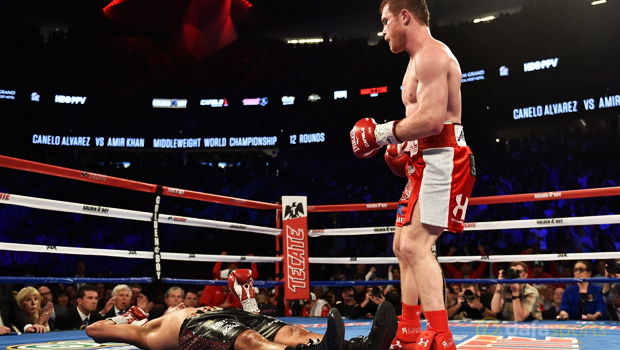 Bolton's Amir Khan admitted he will drop back down to the 147lb division after he was brutally knocked out by Saul 'Canelo' Alvarez on Saturday night in Las Vegas.
The former world champion made the brave move to step up to middleweight to take on Mexican Alvarez, who had lost just once before to Floyd Mayweather, at the new T-Mobile Arena.
The Briton started the opening rounds well and looked to be ahead on the scorecards after using his fast hands and foot speed, before his night was ended early in the sixth with a thunderous shot.
Khan's defence let him down but Alvarez's stunning overhand right is already being labelled as the knockout of the year.
Speaking after the fight, the 29-year-old Khan revealed that he was physically fine following the heavy blow but that he is now determined to step down and win more titles in his natural weight division.
"I'm a natural 147 (pounds) fighter, but this challenge came and it was very hard to turn down,"
Khan said. "I want to be the best, I want to fight the best and that's why I took this fight. I'm one of those fighters that will step in the ring with whoever.
"I showed my bravery by getting in the ring with Canelo, but this is boxing. I wanted to go out there as a champion.
I was unfortunate that I didn't make it to the end, but I tried my best and I want to say thank you for the support.
"But I will probably go down to 147 now."
Leave a comment