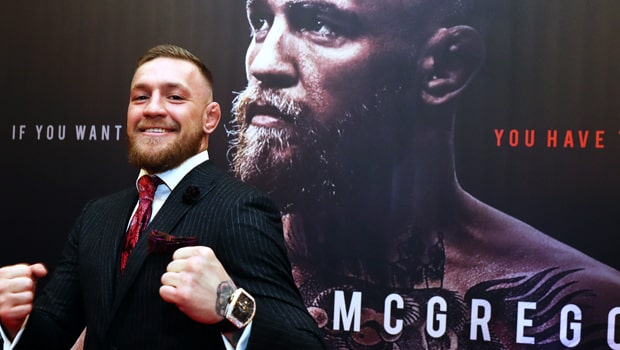 Conor McGregor says he will beat Khabib Nurmagomedov by knockout when he makes his comeback UFC fight in Las Vegas on Saturday.
The controversial 30-year-old will return to the octagon for the first time in almost two years when he fights Russia's undefeated UFC lightweight champion Nurmagomedov in UFC 229.
The Irishman's last appearance in UFC came in November 2016 when he beat Eddie Alvarez to add the lightweight belt to his featherweight title. And he feels his upcoming Russian opponent lacks experience.
"I'm going to maul him," McGregor said. "I will clatter him; he will crumble. I don't think he can take a smack. He reacts like a novice."
McGregor opted to take a lucrative boxing match against Floyd Mayweather Jnr last year, and was stripped of his lightweight and featherweight UFC belts.
Nurmagomedov was installed as lightweight champion earlier this year and McGregor is not happy that someone could assume a position he had worked so hard to reach.
"I spent my entire life's work to win those two UFC titles," he said.
"I sacrificed so much to gain those world titles and then as soon as I win the second world title – I hadn't even been offered a featherweight contest – and the featherweight title was taken off me.
"Many things irritated me in the game and just watching it all unfold, I just became a lot more hungry to come back and show who the real king is."
Nurmagomedov is 1.57 favourite to beat McGregor, who trades at 2.40 for a comeback win.
Leave a comment