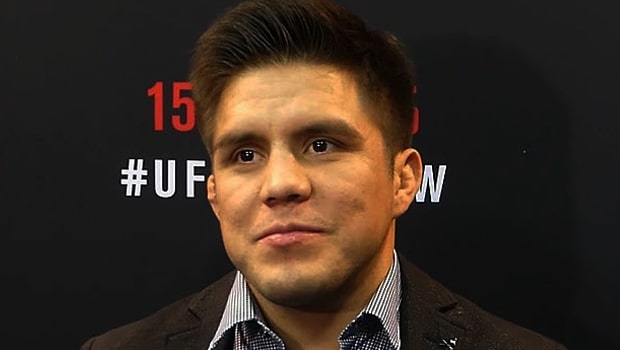 American Henry Cejudo has labelled himself the 'greatest combat athlete of all time' following a dramatic come-from-behind win over Brazilian Marlon Moraes at UFC 238 in Chicago.
Flyweight champion Cejudo added the vacant bantamweight world title to his collection with his gutsy display after absorbing some powerful early blows from Moraes.
The Brazilian had loaded up with heavy strikes early in the fight, taking a clear advantage, but Cejudo found success with his close-range boxing and Muay Thai knees, showing the stronger durability as the contest wore on.
As Moraes began to visibly tire, 32-year-old Cejudo finished his opponent with ground strikes with nine seconds remaining in the third round.
He joined Conor McGregor, Daniel Cormier and Amanda Nunes in becoming just the fourth athlete to hold two UFC world titles simultaneously.
It is a status known to fight fans as being a "champ champ", but Cejudo feels he know stands above the rest, having landed a gold medal in freestyle wrestling at the 2008 Olympic Games in Beijing before transitioning to mixed martial arts five years later.
"No, I'm not champ champ, ladies and gentlemen. My name is 'Triple C'. Olympic champion, flyweight champion of the world and now bantamweight champion of the world," said Cejudo.
"I am the greatest combat athlete of all time." Having relieved Demetrious Johnson of the flyweight title last year, Cejudo faced top bantamweight contender Moraes for the vacant crown in that division in Chicago.
He says he has more targets ahead but he wants to be paid top-dollar by the UFC now.
He sent a message to UFC president Dana White, saying: "Wherever you are, I have a hit list. But I want to start getting paid. I want to start making heavyweight money."
Leave a comment