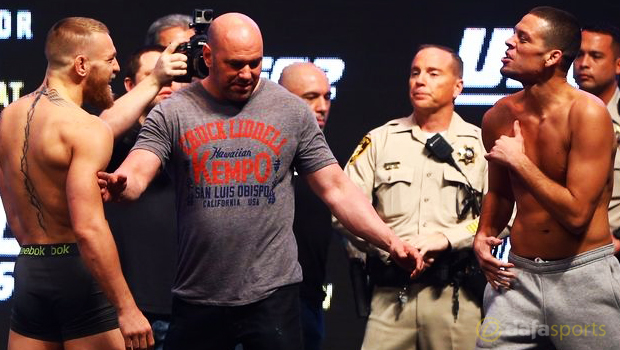 For those who still believe in the fantasy fight between Mayweather and McGregor, it's over. It's not going to happen since on Saturday night at UFC 199, it was confirmed and announced. McGregor is going to come back to the octagon against

Nate Diaz

in a rematch fight dated August 20, 2016.
It's no doubt McGregor is regarded as the most explosive MMA fighters but he was forced to tap out into submission after Nate Diaz' rear naked choke last March at UFC 196. With everyone eager to see the rematch among fighters, there have been some factors for the bout to be rescheduled and canceled. But now, with both parties agreed in the piece of financial pies as well as with the conditions, it's all done and officially set into the spotlight for UFC 202.
Following up the history between rivals, it was then remembered that McGregor was scheduled to fight Rafael Dos Anjos but the guy refused and announced his withdrawal due to foot injury. RDA's misfortune has opened up the doors for Nate Diaz with (19-10) record who accepted the deal as replacement on 11-day notice. Following up with the conditions being set by UFC, McGregor will once again fight Diaz at 170 pounds although he still holds the 145-Championship belt took by knocking out Jose Aldo on a fight record of 13seconds of the first round.
During the interview, McGregor shared the weight adjustments he did before fighting Diaz considering the withdrawal of his supposed to be opponent RDA. "What kind of fighter would I be if I said, Hey I didn't get you at 170, let me catch you up at 155,"McGregor said. "I'll make my adjustments. I ate up to the weight. This time, I won't do that," he added. On the other hand, Diaz swept off back-to-back winning stake after Michael Johnson and McGregor since 2007. However, he failed to snatch the belt when he fought and loss a 5-round decision against Benson Henderson.
In line with the announcement, Diaz was seen attending the UFC 199 card on Saturday at Inglewood, California. In his official Instagram account, Nate stated that rematch with McGregor has been agreed. In this post, there is a video showing himself and Dana White with the caption "Getting deals done today." In the video, Nate Diaz was seen slapping UFC President Dana White but appeared to be all for fun.
That night after, the soon-to-be rematch between two fighters was then announced. This means, Diaz has the chance to defeat Conor McGregor once again when they square off at UFC 202. The fight was originally scheduled July 9, 2016 but McGregor pulled it off due to the delay of his flight in Las Vegas.
UFC 202 could be the best fight McGregor could have in his career. If ever he wins at 170 pounds, he could either find another opponent or move back to 145 pounds against Jose Aldo or Frankie Edgar who were currently set up for UFC 200.
Any thoughts about this fight? Share it with us via comment section.

Leave a comment