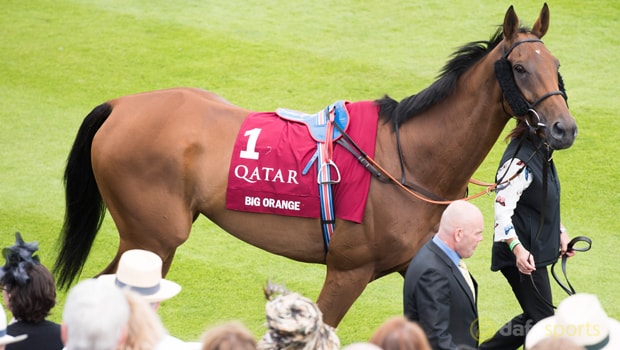 Trainer Michael Bell insists Dubai Gold Cup challenger Big Orange is looking good after a warm-up run around the Meydan training track on Thursday.
The seven-year-old was found to be setfast after a workout on Monday and was left to rest on Tuesday.
However, the bay gelding has since stepped up from a light workout to a full one on Thursday and owners Bill and Tim Gredley are happy with his progress.
The Ascot Gold Cup hero is now set to run and he is priced at 7.00 to win the race.
Confirming his participation, Bell said: "Seeing him work was a heartening sight.
Then during the hour afterwards we were concerned the setfast might come back again, but he came back to the barn very, very well.
"It's a relief. It's stressful enough having runners in big races without added stress.
I'm very lucky that Gillian is very experienced. But in terms of condition the horse is the best he has ever looked. We might do very little with him tomorrow.
"He didn't do too much today, is great in his skin and has eaten everything. He loves the sun on his back and fast ground."
Vazirabad is the 3.00 favourite ahead of the race this weekend, while Rare Rhythm is priced at 3.25.
Royal Ascot winner Rare Rhythm looked at the top of his game in a 10-furlong run at Marmoom stables and trainer Charlie Appleby is confident ahead of the race.
"He's had a series of annoying injuries and that's a shame because we've always thought a lot of him," said Appleby.
"He beat Vazirabad last time and will come on for that. He's a lovely-looking horse and I would love to see him do himself justice on Saturday."
Leave a comment