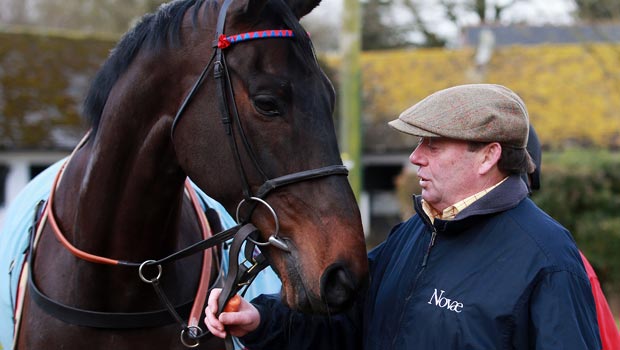 Barry Geraghty is confident that Sprinter Sacre is capable of regaining his Queen Mother Champion Chase crown at the Cheltenham Festival.
With less than ten days until the start of the four-day Cheltenham extravaganza, Geraghty is upbeat that the Nicky Henderson-trained nine-year-old is ready to get to back to winning ways.
Sprinter Sacre dotted up in the Queen Mother two years ago, cruising around under Geraghty and winning on the bridle on his way to becoming the highest-rated jumps horse in training at the time.
A heart problem in 2013 meant he was forced to take a year out and he made his long-awaited comeback when finishing second behind Dodging Bullets at Ascot in January.
Geraghty now feels that was a more than fair effort given the length of time he had been side-lined.
"He didn't look as well at Ascot as he does now," the jockey said, having schooled Sprinter Sacre this week.
"That was his first competitive race for 20 months so he was entitled to get a bit tired and his jumping was a little bit rusty."
Sprinter Sacre travelled ominously in the Ascot contest, but Geraghty likened his performance to any elite athlete returning from a prolonged layoff, insisting he was entitled to get tired.
"I thought I was the winner but as soon as we turned into the straight and Dodging Bullets was coming around me I knew I was beaten and had no more left in the tank," he said.
Geraghty will be back on board for the Queen Mother run on the 12th March and he expects to see plenty improvement.
"I'd say he'll be a good bit better than he was at Ascot," he added.
Leave a comment