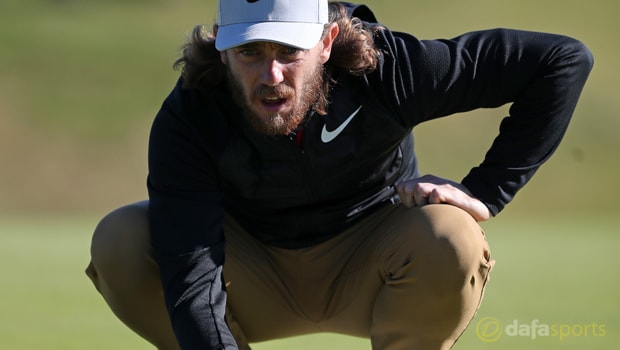 Tommy Fleetwood showed he has no intentions of allowing Justin Rose an easy time in his bid to claim the Race To Dubai honours with a second-round 65 at the DP World Tour Championship.
The English pair are set to duel it out over the weekend on the Earth Course at the European Tour's season finale.
Fleetwood has led the race almost from flag fall this season but Rose moved onto his coattails with back-to-back wins at the WGC in China and the Turkish Airlines Open recently.
And Rose overhauled Fleetwood after round one in Dubai, his six-under par 66 enough to edge in front with Fleetwood shooting 73.
The Southport star had questions to answer on Friday and he came up with the goods, carding eight birdies in a seven-under par 66 of his own, enough to go back into the lead in the Race To Dubai standings as Rose was preparing to tee off.
"Swing felt a lot better, I was on the putting green until dark last night and today was just a much better day," Fleetwood told Sky Sports after his round.
"The weather's definitely better [early in the morning], you get the best of the conditions and the greens are perfect a lot of the time.
That time of the morning it was perfect golfing conditions and if you played well there was a score out there.
"There are quite a few accessible pins out there, so I don't know where I'll end up."
Fleetwood doesn't expect his efforts to throw Rose off, but he is relieved nonetheless to have put his name in the mix and applied some pressure.
"I don't know whether he'll be bothered or now, he's so strong mentally. He's been in a lot of situations like this, this is my first time but I'm glad I've put my name up there [on the leaderboard]," he added.
"I'm glad within myself that I played like that, I left the course feeling a bit down yesterday so it's nice to walk off feeling better now."
Fleetwood is 23.00 to win the DP World Tour Championship. His seven-under par tally was enough to sit two-shots behind early second-round pacesetter Tyrell Hatton, who shot 63 to move to nine-under.
Leave a comment