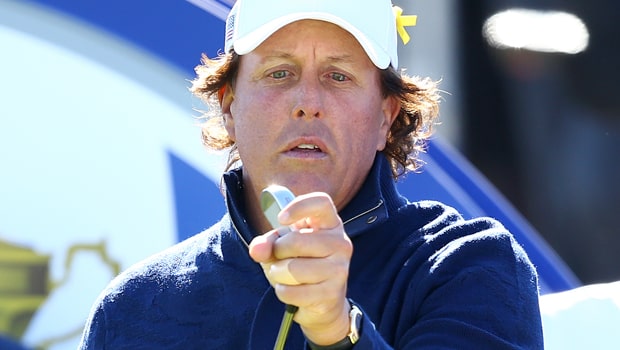 Fan favourite Phil Mickelson believes a win at next month's US Open will help him redefine his career as he tries to complete the career Grand Slam.
The 48-year-old has tasted victory at every other major, but he has never been able to get his hands on the US Open trophy.
Mickelson, who is a three-time Masters champion, has finished second at the US Open on six occasions but he is raring to go this year.
He has already turned his attention to the third major after dropping down the leaderboard on day three at the US PGA Championship.
Mickelson will become just the sixth player to win every major if he wins at Pebble Beach next week and he believes his game will benefit from returning to the famous course, the scene of his last win in February.
"There's not much I could do right now that would do anything to redefine my career, but there's one thing I could do, and that would be to win a US Open," said Mickelson.
"So if I were to do that, it would change the way I view my career because there are only five guys that ever won all the majors. And you have to look at those guys differently. And if I ever join that crowd, and the only way to do that is to win a US Open, it would redefine my career.
"I don't think about it a lot, but I do think about what I have to do to win a US Open. And it's getting increasingly difficult. But we're on a golf course at Pebble where you really don't need to hit a lot of drivers.
"So it gives me a chance that it lessens my weakness, which is hitting fairways. It makes that not quite as important because you don't have to hit drivers there."
Brooks Koepka remains the 8.00 favourite for next month's tournament, with Mickelson available at 23.00.
Leave a comment