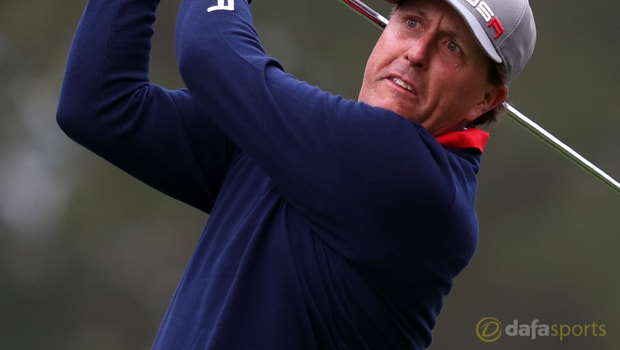 Phil Mickelson has announced that he has ended his 25-year partnership with caddie Jim 'Bones' Mackay.
The relationship between the pair was one of the most enduring player/caddie duos in world golf, yielding five major championships for the popular left-hander amid a glut of worldwide success.
Mickelson, 47, has not been able to add a victory to his CV since the 2013 Open Championship success at Muirfield and missed last week's US Open at Erin Hills to attend his daughter's graduation.
The split comes as a major shock and Mickelson confirmed in a statement that both parties had agreed it was time for a change.
The three-time Masters winner was quick to put a lid on any notion there had been a fallout.
"Bones is one of the most knowledgeable and dedicated caddies in the world," Mickelson said in a statement published on the PGA Tour's website.
"He is always prepared and has the ability to make decisions in pressure-packed situations.
Bones is without a doubt one of the most thoughtful people that I have ever known. The next player to work with him will obviously be very lucky.
"My relationship and history with Bones far exceeds golf. He has been one of the most important and special people in my life since the day we met, and I will always be grateful for everything he has done for me."
Mickelson has won the Masters three times and both the Open and US PGA Championship once, while he also played in 11 consecutive Ryder Cups for the United States.
For his caddie, appearing at the biennial team event was a dream come true and Mackay says there are more major titles ahead for his former boss – especially at Augusta National.
"When Phil hired me in 1992, I had one dream: to caddie in a Ryder Cup," Mackay said in a statement.
"Last year, at Hazeltine, Phil played in his 11th straight Ryder Cup. It was so cool to have a front-row seat. "I wish Phil nothing but the best.
His game is still at an elite level, and when he wins in the future (definitely the Masters), I will be among the first to congratulate him."
Mickelson is 34.00 to win next month's Open Championship at Royal Birkdale.
He has confirmed his brother Tim will be caddying for the remainder of this season.
Leave a comment