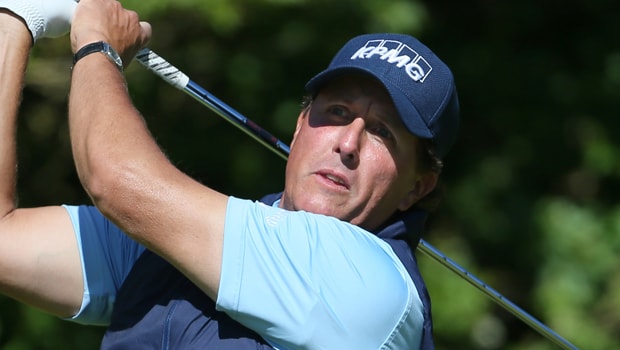 Phil Mickelson says he is 'embarrassed' after the third-round controversy that engulfed him during last weekend's US Open at Shinnecock Hills.
The American jogged after his ball and deliberately prevented it from rolling off the 13th green during the devilishly tough third round at the New York venue by putting back towards the hole while it was still moving.
He incurred a two-stroke penalty for his actions, though many felt he should been disqualified from the event completely when he admitted in a post-round interview that it was pre-meditated and something he had considered doing in the past.
Mickelson said he quickly decided the two-stroke penalty would be better than allowing the ball to roll off the green and leave him with an awkward pitch back over a bunker.
Despite that admission, the United States Golf Association (USGA) were content to apply a two-stroke penalty instead of disqualifying the popular left-hander, a five-time Major champion.
"It was clearly not my finest moment and I'm sorry," he said.
"My anger and frustration got the best of me last weekend. I'm embarrassed and disappointed by my actions."
Mickelson's two-shot penalty from the USGA was for "making a stroke at a moving ball", rather than the more severe offence of "an action with the intent to influence the movement of a ball in play" – which could have resulted in his disqualification.
John Bodenhamer, the USGA's senior managing director of championships and governance, said at the time: "Phil didn't purposely deflect or stop the ball, which is talked about in the reference under Rule 14-5. He played a moving ball."
Mickelson eventually finished in a tie for 48th place, 15 shots behind compatriot Brooks Koepka, who successfully defended his US Open title.
The United States are 1.80 to win the Ryder Cup this year in Paris, with Europe 2.15 to reclaim their cup on home soil.
Leave a comment