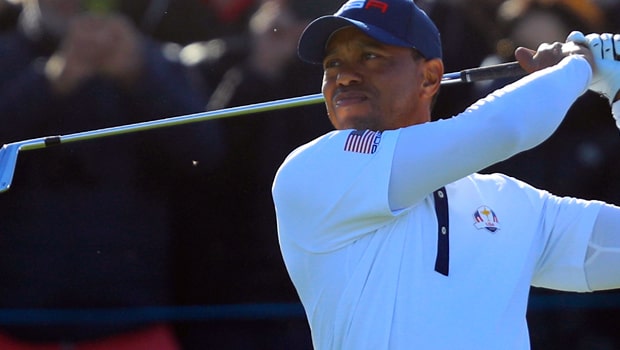 Tiger Woods suggests winning the US Masters for the fifth time in his career was 'probably one of the biggest wins' he has ever achieved.
The American claimed the 15th Major championship of his career on Sunday, fending off a packed leaderboard to post a 13-under par tally, a shot clear of compatriots Brooks Koepka, Dustin Johnson and Xander Schauffele.
It had been 11 years since Woods last tasted Major glory at the 2008 US Open. In between times he has undergone four surgeries on his back and, at times, it appeared as though his career at the top was over.
Woods dropped as low as 1,199th in the world rankings at one stage while he could not compete at the 2016 and 2017 Masters. Returning to triumph on golf's grandest stage meant a lot to the 43-year-old.
"I was very lucky to be given another chance to do something that I love to do.
I had serious doubts after what transpired a couple of years ago," he said afterwards.
"I couldn't lay down, I couldn't do much of anything. I had the procedure which gave me a chance of having a normal life.
"All of a sudden I realised I could swing a club again. I felt if I could somehow piece this together I still had the hands to do it. The body is not the same but I still had good hands.
"To have the opportunity to come back like this, you know it's probably one of the biggest wins I've ever had for sure. It's got to be right up there, with all the things I've battled through."
Trailing overnight leader Francesco Molinari by two going into the final round, it was the first time Woods had come from behind in the final round to win a Major. He is now within three of Jack Nicklaus' all-time tally of 18 career wins at Majors.
Woods is now the 9.00 favourite to win next month's PGA Championship at Bethpage Black in New York.
Leave a comment