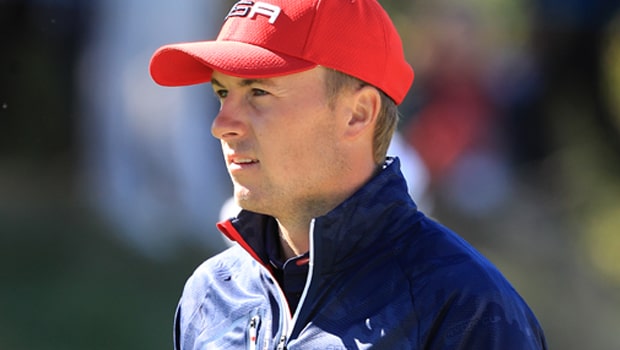 Jordan Spieth concedes his score looks better than how he played after he took an early lead at the weather-delayed Genesis Open at Riviera.
A heavy and unrelenting storm wiped out seven hours of play in California during round one, leading to the possibility of second straight Monday finish on the PGA Tour.
None of the 144 players in the field were able to complete round one, but Spieth shares the lead on five-under par through 12 holes of his opening salvo. The three-time Major champion benefited from an aborted start to the tournament.
Only 30 players had teed off, and the decision was made to scrap their scores after 50 minutes of play and restart the tournament once the storm had passed.
Spieth, having struggled early on, was a beneficiary of the reset clock. He chipped in twice for birdie during his bogey-free second run – from 66 feet at the par-four 12th and the 31-foot par-four second hole.
With three more birdies on the par-fives, Spieth holds the lead alongside Sung Kang in the early running. The American admits it wasn't so much excellent play that pushed him up the leaderboard.
"My score doesn't reflect how I've played," said Spieth.
"It's certainly better than the way I struck the ball. That's what happens when you get a couple chip-ins – you score well. Just want to cap it off tomorrow." Spieth is 7.00 favourite to win the Genesis Open.
Leave a comment