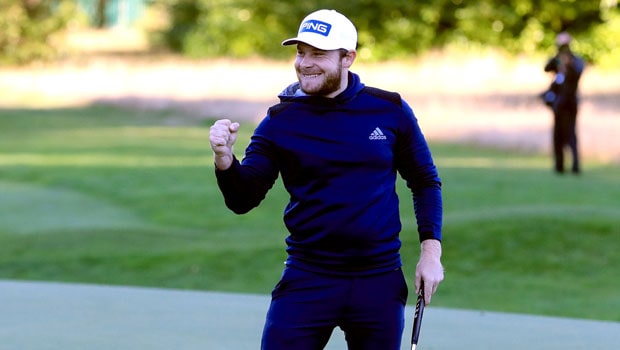 Tyrrell Hatton finished 18 under on Sunday evening to win the Abu Dhabi HSBC Championship in a field filled with other big stars including former world number one, Rory McIlroy who began the day as the overnight leader (finishing third). Hatton shot four-under 66 to claim victory. Jason Scrivener also shot under 66 but finished 4 shots behind Hatton. McIlroy ended the tournament at 13 under.
The day began with McIlroy as the leader from Saturday with Hatton just one shot behind him. Both Hatton and McIlroy made birdies at the second hole and McIlroy followed up with another at the third. But a bogey at the eighth hole saw McIlroy's game begin to suffer. Hatton made a birdie at the ninth and another from 30feet in the 10th. By that time, he was already two shots ahead before he birdied the 11th, taking his lead to three.
Hatton continued his birdie at the 13th and shot his final one at the 16th. He now had a comfortable lead and was able to make par on the last two holes. McIlroy's blunders, including a bogey at the 16th, had given the opportunity for Scrivener to catch up and finish one shot ahead of him. McIlroy was able to finish the round by making a level-par 72 with a birdie at the final hole.
Hatton's win would move him up the list at the OWGR this week, bringing him within the top 5. The Englishman is expected to claim the spot of British number 1, ahead of McIlory. This is Hatton's first win since the BMW PGA Championship at Wentworth in October.
For McIlroy, it is a different story. Despite becoming world number one for a brief period last year, he has failed to win any titles since November 2019. He entered this event hoping to win his first Rolex Series title. He has finished runner up in Abu Dhabi four times out of 10 appearances. He began the day well, as the overnight leader, but his four bogeys saw his lead drop, eventually finishing as the second runner up.
Leave a comment