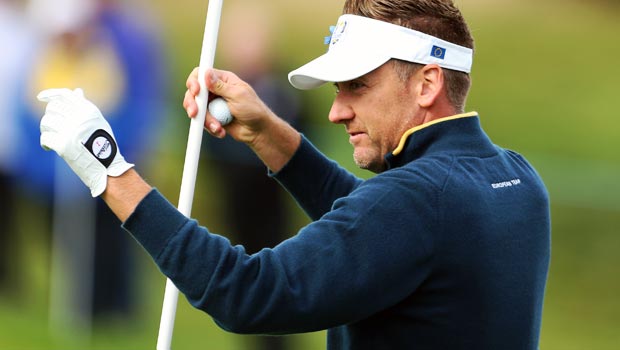 European Ryder Cup talisman Ian Poulter has said he will provide the intimidation factor once again when the coveted tournament gets underway at Gleneagles on Friday.
The Englishman has become one of the key members of European sides in past competitions, with the 38-year-old being dubbed 'The Postman' because he continues to deliver in the cross-Atlantic clash.
Poulter sparked the sensational comeback at Medinah two years ago as he birdied the last five holes on Saturday afternoon to earn a vital point and reduce the deficit to 10-6 heading into the singles matches.
The English star then claimed the victory in his one-on-one encounter and to help ensure the cup would be staying with Europe, as America wilted under the intense pressure in their own backyard.
Poulter boasts a fantastic 80% win record in the Ryder Cup and has adopted the role of motivator in the team, and this was most apparent at Medinah when he at times antagonised the crowd who had been providing huge support to the USA team.
The Englishman, who made it to Gleneagles this year thanks to wildcard pick from skipper Paul McGinley, has said he is ready to intimidate his American opponents.
"I'm one of those players who stands tall, when I do that and when I hole putts and I'm seen showing the emotion, I guess that can be the intimidation factor," he said.
"I've been able to do that an awful lot since playing in the Ryder Cup. I feel if that can continue, that's how I'll try and intimidate."
Lee Westwood was also a captain's pick for the tournament and the Englishman is priced at 1.93 to outscore American Bubba Watson on overall points, who is the slight favourite in this head-to-head bet at 1.89.
Leave a comment