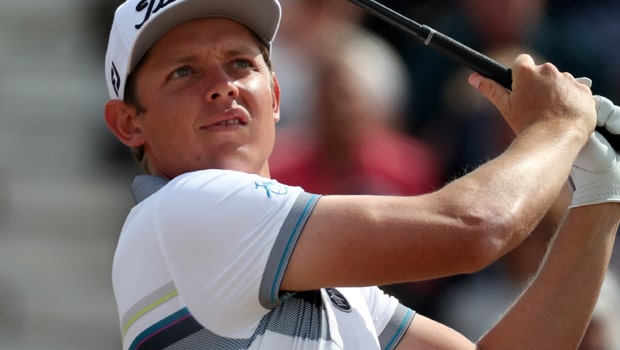 Cameron Smith says he wants to get into the top 20 of the world after he became the first player since Robert Allenby in 2001 to successfully defend his Australian PGA Championship title.
Smith went into Sunday's final round with a three-shot lead and he managed to hold off a spirited challenge from fellow Australian Marc Leishman, who is still searching for his first win Down Under.
The 25-year-old from Brisbane mixed four birdies with two bogeys to card a two-under-par 70 to finish on -16 and secure his second consecutive win at Royal Pines Resort on the Gold Coast.
Leishman posted a three-under-par 69 to finish second on -14 whilst Englishman Ross McGowan, who signed for a sensational nine-under-par 63, and Aussie Matthew Millar ended up in a share of third.
South Korean Jaewoong Eom finished in fifth on -7, one stroke ahead of Australian trio Jason Scrivener, Nick Flanagan and Ben Eccles.
Speaking about his victory, Smith said: "I was expecting Leish to come out and give it a good crack today. It's always hard going up against a mate and trying to win a golf tournament.
"I've been in this situation before and I've had it happen to me as well. I'm sure we'll have a beer over Christmas or when I see him next and we'll be back to being mates.
"I've definitely improved a lot over the last year. I've put in a lot of hard work and I've just stuck to my process goals. I would love to get into the top 20 by the end of this year, it's definitely the next goal.
"I think that's the next big step for myself, to get in there and get myself in a lot of situations where I can win golf tournaments."
Leave a comment