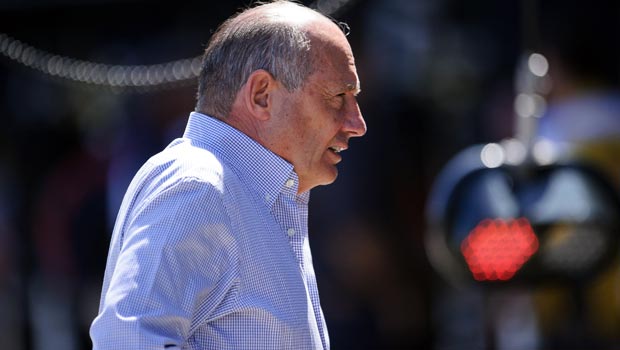 Ron Dennis has revealed that he would "love" to welcome back Lewis Hamilton to McLaren for the 2015 season.
Hamilton, 1.71 to win the British GP, left McLaren at the start of the 2013 season for Mercedes as he tried to make the first move ahead of the new engine regulations.
The Brit was mentored by Dennis throughout his junior formula career and for his 2008 World Championship win but Hamilton struggled to challenge Sebastian Vettel in his last few years with his former team.
With Mercedes now cruising at the top of the leader-board Hamilton looks likely to stay put as he tries to win his second world title. The 29-year-old currently trails team-mate Nico Rosberg by 29 points in the drivers' championship and he has already admitted he is confident he can catch the German.
Despite his form at Mercedes, reports have suggested McLaren are trying to bring their former star back for 2015, and Dennis has admitted he would love to have him on board.
He told Sky Sports F1: "Want is just…we want to win races and we will always hope that the best available drivers would want to drive our cars.
"The key word is available because people have contracts and we respect those contracts, but if Lewis was in a position to drive for us next year, as with many of the other top drivers if they were in that position, we would love to have them on board.
"But no one should ever feel threatened as a driver or a mechanic, all we want to do is win and we have to take considered positions and considered decisions on that process."
Hamilton is currently priced at odds of 2.10 to win the world title this season, with Rosberg the heavy favourite at 1.73.
Leave a comment