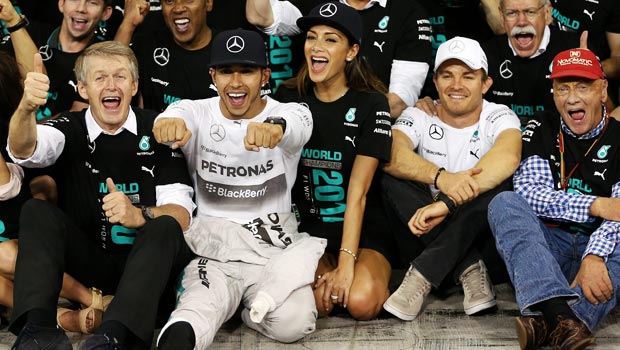 Lewis Hamilton praised his Mercedes team and promised that there is more to come after clinching his second world title on Sunday.
The 29-year-old has been involved in a season-long battle with Mercedes team-mate Nico Rosberg but made sure of the title by claiming the Abu Dhabi Grand Prix at the weekend.
With double points on offer, the championship was still up for grabs in the UAE but Rosberg suffered problems in running and was never a threat to the Brit.
Having won the title with McLaren back in 2008, Hamilton then struggled for a while until opting to move to the Brackley-based marque.
And his team clearly coped with the new rules regarding power units better than the rest of the field and it always looked like being a two-horse race even before the opening race of the season.
That is how it turned out, with Red Bull's Daniel Ricciardo finishing in third place in the standings but nearly 150 points behind Hamilton.
And, after celebrating what he called "the greatest day of my life," the Stevenage-born ace now wants to dominate the sport in the coming years.
"I wanted to be part of something building and growing," he said. "I feel this is just the beginning. What this team has put together is something incredibly special."
And, despite having a fractious relationship with Rosberg at times during the season, Hamilton feels that his team-mate and rival is vital to the team's cause.
"We've got great people in their right positions and me and Nico will continue to push the team forward," he added.
Leave a comment