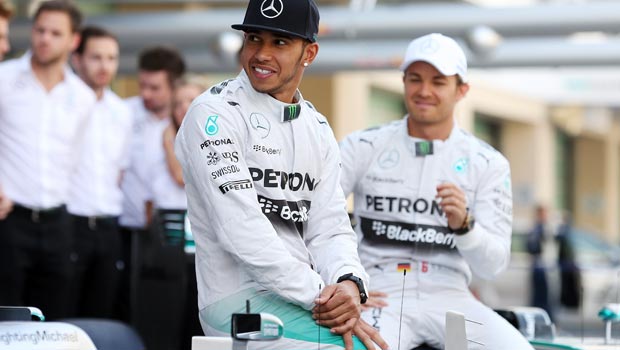 Nico Rosberg is expecting to face an even tougher challenge from Lewis Hamilton next season but feels other teams might also have a say in proceedings.
The dust has now settled on the 2014 Formula One campaign with Hamilton claiming the spoils from his Mercedes team-mate after a season-long worldwide tussle.
Despite the British flyer winning many more races than the German, the title was still up for grabs going into the final Grand Prix of the season in Abu Dhabi due to the controversial double-points rule introduced last winter.
But it was new regulations regarding the power units that made a real difference last term, with Red Bull no longer the dominant force and Mercedes streets ahead of their rivals.
It became a private battle between Hamilton and Rosberg, and the pair endured a strained relationship at times, but they ended as friendly rivals and, according to the latter, it will be the same again in 2015.
"I look forward to the battle again next year when I will try to be even stronger," said Rosberg."It's going to be an awesome challenge.
Lewis' level is extremely high, and this year Lewis was the best driver on the grid."
But the 29-year-old does not believe that Mercedes will have things all their own way next year as the other teams start to come to terms with what they need to do to stay competitive.
"As we saw in the last race when Williams were right there with us, the competition is strong, and other teams aren't going to be asleep either," he added.
Leave a comment