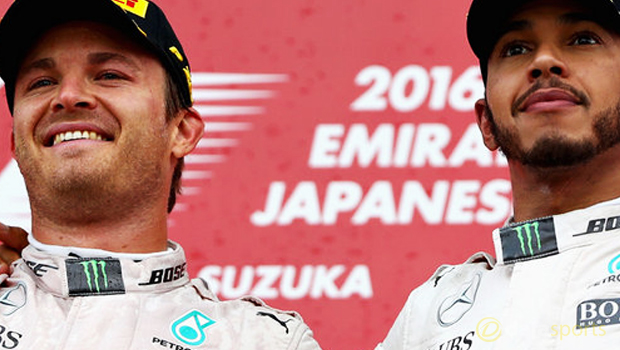 Mercedes ace Nico Rosberg extended his lead over team-mate Lewis Hamilton to 33 points in the world championship race after he secured victory at the Japanese Grand Prix on Sunday.
The German led from the front to claim his ninth race victory of the season and fourth in the five grands pix since the summer break, as he now closes in on a first Drivers' Championship crown.
Rosberg's cause was helped as championship rival Hamilton, who started second on the grid, made a stuttering start at Suzuka, dropping as low as eighth at the first corner, before eventually recovering to secure third place.
The Brit could have even finished the race in second position, but a last ditch attempt to overtake Red Bull's Max Verstappen ended in failure, and after the race he admitted that his slow start had ultimately cost him.
"I made a mistake," Hamilton admitted. "Working my way up from there was tricky, but I did the best I could."
Hamilton's chances of securing a third-straight world title now appear to be slim, as even if he wins all four of the remaining races this season, he will still require Rosberg to finish lower than fourth in at least one of them.
Sunday's result at Suzuka also secured Mercedes the Constructors' Championship title for the third consecutive season, as they are now 208 points clear of nearest rivals Red Bull, ahead of the next race on the calendar, the United States Grand Prix, which is due to take place on October 23.
Leave a comment