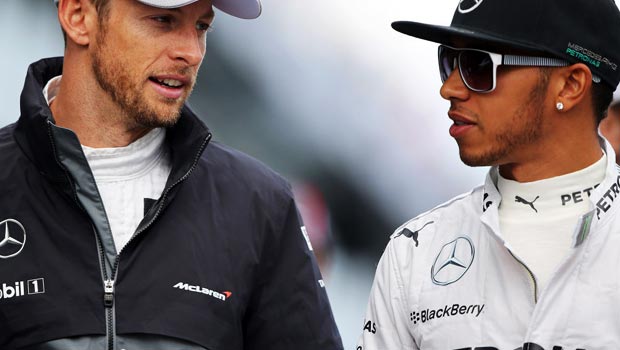 Jenson Button has hailed the brilliant natural ability of Lewis Hamilton following the Mercedes driver's impressive win at the Italian Grand Prix last weekend.
Button knows his fellow Briton well from their time together at McLaren and believes he is the most talented driver on the Formula 1 circuit.
Hamilton's win at Monza on Sunday moved him to within 22 points of Mercedes team-mate Nico Rosberg in the race for the World Championship this year, and he appears to have the momentum as the season begins to reach its climax.
With six races to go, Hamilton knows he can continue to cut the gap on Rosberg with more victories and Button says he has the ability to go quicker than any of his rivals.
"For me he is one of the quickest drivers ever to jump into a Formula 1 car," Button told Sky Sports. "His natural ability is probably better than anyone in terms of outright speed."
However, Button admits being the best driver does not always guarantee success, with so much resting on the car and the backroom team working behind the scenes.
He added: "We all know F1 isn't all about natural ability, it is how you build on your natural ability and also how your engineering skills are and how you can work with hundreds of people within a team to develop a car."
The next race on the calendar is in Singapore on September 21 with Hamilton the 1.78 favourite to take the chequered flag again.
Leave a comment